Let's Cover Those Spots With Tarte Shape Tape Concealer!
As a person who struggles with acne, it can be hard to find products to cover up spots. Some are too expensive, and when we buy them, they don't get the job done. Other products are cheap, and they also don't get the job done. It's a hit or miss. Well, this product is worth the price, although it's pretty pricey.
The Ultra-Creamy Tarte Shape Tape concealer is popular in the beauty department. It went viral on all of the social platforms due to its full coverage wear and flawless look. It's known for its crease-proof, waterproof, and long-lasting wear.
I wanted to test out the product myself to see if everything I'd heard about this product was true. The Ultra-Creamy Tarte Shape Tape Concealer has a 24-hr moisturizing matte finish. It is for all skin types, especially dry or mature skin. The product was ordered online from Amazon for $28. It arrived the next day. The concealer itself is cute. I did the virtual shade matching, and it matched me with the shade "light sand." The product matched my shade, which was surprising because most of the virtual shade matching options always get me a shade either very light or dark.
Before putting on the product I made sure to wash my face and moisturize. I always put on sunscreen before putting on makeup, as it helps me to get a smoother look. I primed my face with the e.l.f. Putty Primer, and I did my eyebrows and cleaned it up with the Tarte concealer. It cleaned up my brows very well. I loved how my brows looked. Then I put the concealer under my under eyes, chin, between my eyebrows, nose, and acne scars. This product was so soothing to put on. I blended it out with the damp e.l.f. beauty sponge. It blended out so well and it covered my acne scars. My eyebags were literally gone. I set my face with the Maybelline Fit-Me loose powder and finished the rest of my makeup.
Throughout the day, I did my regular life routine. I went out and did activities. The makeup stayed on throughout the whole day. It didn't get cakey or patchy as much, and it wasn't irritating nor did it feel heavy as the day went by. I took pictures in the sun and there was nothing wrong with it when shown in bright light. It blended with the contour and blush evenly. My acne scars did not show at all. Most products never cover them up; they get patchy, but not this one. They were as good as gone. Since my makeup was set too, the product lasted a longer time than expected.
I highly recommend the Tarte Ultra-Creamy Shape Tape Concealer! Everything said about this product is true. It got the job done! With its moisturizing and rich formula, long-lasting, and full coverage wear, it is now my favorite concealer. Personally, I thought this concealer was flawless. If you struggle with acne, this product is definitely worth the price!
View Comments (17)
About the Contributor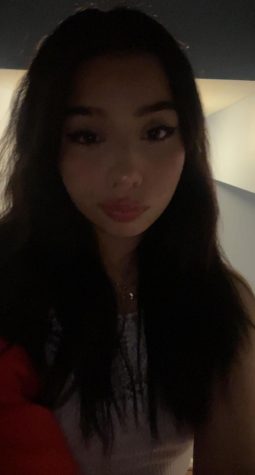 Jocelyn Cruz, Staff Journalist
My name is Jocelyn Cruz, I'm a sophomore. This school year I hope to write about students' thoughts on school trends and problems they struggle with.