Fenty Beauty Pumps Up The Volume!
Fenty Beauty has recently released their newest mascara, Hella Thicc! It is a mascara that is said to coat, curl and lift your lashes while also giving extreme volume no matter the length of them. This new mascara retails for $19 on the Fenty Beauty website. You can also check out this product in stores like Sephora, Ulta, and other stores that sell high-end makeup. In case you are unaware of what Fenty Beauty is, it is a beauty makeup brand created by Rihanna back in September 2017.  Fenty Beauty really set off when their products started to get known about their full-coverage and long-wearing formula. Many influencers have talked about how they use this product in their makeup routine.
This mascara really stood out to me by its name. My lashes are very straight and short so seeing many videos of this made me wonder if it was gonna work on me. Before getting this product I did some research and watched a lot of videos to see if it works for short straight lashes. To my surprise, there was actually a good amount of reviews that showed me that the mascara would work on my type of lashes. I actually kind of hesitated to get this mascara because I thought that it would be more expensive than what it is. When I looked up the price I was stunned because most Fenty Beauty products are costly, but this mascara only costs $19. Which is not bad compared to some of the other products.
Let's break down how to use this product: first curl your lashes with an eyelash curler (I prefer heating up my lash curler with my blow dryer because I found it keeps my lashes up for longer), then I apply the mascara to the ends of my lashes so they don't get weighed down (after I give my lashes a nice coat I like to blow dry my lashes upward so that they also stay up for longer), lastly I curl them again with my heated eyelash curler. That's my little lash tutorial if you want the mascara to come out like mine does!
After using this mascara for about a week, I noticed that Rihanna gave it the perfect name. I really liked it because it gave me just the right amount of volume. I also love how it gave my short lashes a little length since most volumizing mascaras just weigh them down. One thing I did notice was the black spots it would leave on my eyelids, but I think that is just because I have eyelids that are on the oily side. With that being said, this mascara is very lightweight and lasts pretty much all day. I've worn it in the rain and in even on the hot humid days, and it lasted through that all.
Overall, I give this product a 10/10! I definitely think that you should buy this mascara if you want a light volumizing mascara. This mascara is totally worth the price. I can definitely end this article say that this mascara is worth the hype!
Leave a Comment
About the Contributor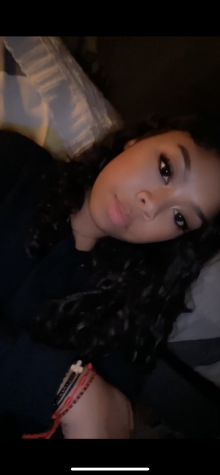 Mikaya Trammell, Staff Journalist
I'm Mikaya! I am a sophomore. This year I hope to write about how the students feel about what goes on around the school.