Bring On The Glam! Kelsey Rios Creates Beautiful Nail Looks For Devoted Clients
Many of us have a desired career that we would want to pursue maybe later on in life. But for @kelseysacrylics aka Kelsey Rios who is an early graduating senior/junior, she started this dream when she was only 15. Being a nail tech and a student can definitely be stressful and time-consuming. But as you know every job has its ups and downs at times.  
As time goes on, nail trends come and go quickly. Some trends are beautiful and are satisfying to look at "I have been wanting to try more 3D designs with chrome. "Also in any job, you will have some things that you are not a fan of because you could just simply not be a fan of them. "I'm always 100% open to new ideas and designs but I dread when clients request tedious hand-drawn art because it takes a long time and it hurts my back," Rios explained. This shouldn't make you hesitant when requesting ideas as always because you are the one paying for the nails. 
 For some of us, we might see a commercial or video of a job and it could greatly inspire us into going into that field one day. "My biggest inspirations were Sydney Alexis and Vee Nailedit because they had their books filled with loyal clientele and the nails they would create were so pretty," Rios said.  She does it because it's just fun making beautiful art and socializing with different personalities and people, maybe making a close bond with some. "My favorite part about my job is making people feel confident and beautiful- nails can definitely make you feel like a whole new person," she said.
But since Rios is so young and is still a student it can get hard. "I definitely would say it's very challenging for me at times to juggle school, work, and a personal life at times but it's all about adapting and managing your time well."  
If you are getting into the cosmetic field, it's not all about glitter and colors and being friends with everyone. There are some downs and ups getting into it. "I do recommend it but I wouldn't want to glorify it either. Along the way, you may get discouraged, you may get rude clients, etc. but I also love my job, and seeing the outcome and happy faces definitely outweighs all the bad experiences,"  stated Rios. "What keeps me motivated is all of the loyal clients that have supported me throughout my whole nail journey." 
Here is one of @kelseysacrylics favorite sets for some inspo maybe for your next set if you get your nails frequently done or if you have never gotten them done and want to try something new.
Leave a Comment
About the Contributor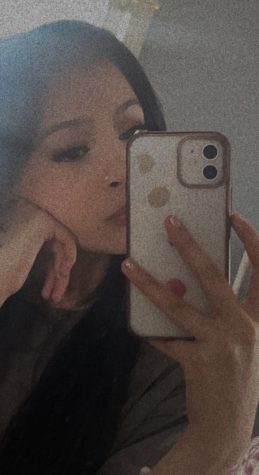 Dulce Lemus, Staff Journalist
Hi my name is Dulce Lemus and I'm a freshman at Osbourn. This year I'm excited to write about different events around the school and sports.