Wednesday Was Great, But Was It Memorable?
The world has been obsessing over Netflix's new series; Wednesday. The series aired on November 23, 2022, to an audience of 150 million, according to variety.com. This followed the other most recent Addams family animated movies. All of the films are known for both their fun plots and their 'kooky' cast. This new series gives an in-depth look into a familiar character, Wednesday. 
Before meeting this more modern version of Wednesday, there were many films before. The Addams Family started as cartoons in magazines created by Charles Addams in 1938. The first time they were on TV was in 1964 when ABC created the first live-action show, according to screenrant.com. The series was followed by the first animated form of the Addams in Scooby-Doo Meets the Addams Family in 1972. The recognition they got helped kick off the most recognizable Addams Family movies from the 90s. This rendition was a large inspiration for the new show of 2022.
There are many reasons why I decided to watch this spinoff. One is that the cast included Jenna Ortega, an actor that has been in films of many different genres. These included Stuck in the Middle, Jane the Virgin, The Fallout, and Scream (2022). I was also curious about how she would portray the character. There are many interviews on youtube where she explains the things that went into playing Wednesday. In one interview with The Today Show, she explains how her character doesn't blink. This was a very interesting part of the show that not many people may have picked up on. 
Considering all the Addams Family history, Wednesday is very different. The diversity in the casting is different from the other iterations of the family. The show had many scenes that displayed a more diverse background. In most of the past Addams Family films, the characters consisted of mainly white people, while Wednesday has a larger range when it came to the amount of non-white characters. This even happens with the main character who is portrayed by a Latina actress. There were many instances of this. Some examples were when she would be listening to music by Hispanic artists, and bringing up Día de los Muertos. Wednesday may be the main character, but she isn't always the most compelling one. The character Enid, who is played by Emmy Myers, is very loveable and charismatic. I wasn't very into the idea of Wednesday having a love interest, but the connection she has with her roommate was something that I loved. 
There were some characters, situations, and choices the show made that I really didn't like. It felt like most of the POC characters were poorly portrayed. While this show is 'revolutionary' in terms of Tim Burton's choosing to incorporate a more inclusive cast,  he doesn't make much of an effort to make in-depth characters for them. And, sure, it is his vision, but is it really incredible that he finally decided not to exclude everyone that's not white? The clear separation between the races wasn't the only issue the show had. There were some behind-the-scenes problems that weren't properly taken care of. For example, Jenna Ortega was on set and shot the dance scenes in the episode "Woe What a Night" while being positive for COVID. "I had body aches" and "They were giving me medicine between takes because we were waiting on the positive result," she said in an interview with NME. I think this was very hazardous, and careless. Not just for Jenna, but for the whole cast.
By the end of the show, I was shocked by the twists, and I think, overall, it was a good show. The acting was okay, but I could tell the cast had a lot of chemistry. I think if you are looking for a good show to watch over the weekend, or you are bored and in need of something new, Wednesday is a good option. If you're looking for a groundbreaking, life-changing show, this is not it. However, if you did love Wednesday, shows like I Am Not Okay With This and A Series Of Unfortunate Events use the same concept with similar story-telling.
View Comments (11)
About the Contributor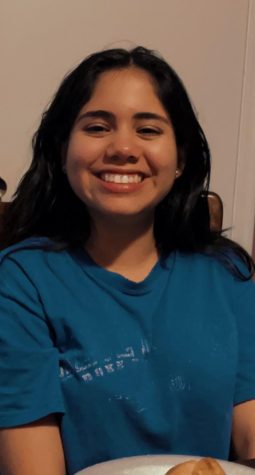 Alejandra Chavarria-Rea, Staff Journalist
Hi, I'm Alejandra and I'm a freshman at Osbourn. I would like to write articles about peoples opinions on recent topics. I am also interested in writing...