Get Going Granola
Osbourn High School believe it, or not has its own official hiking club called Get Going Granola! The club was created by two of Osbourn's very own students, Abby Fairchild and Maya Litchfield. Both of them attend the hikes, with the club sponsors Mr. and Ms. Zenewicz.
The Get Going Granola club plans a hike once or twice a month. It includes carpooling to the hiking trail, then going on a hike together! The chosen trails have beautiful sceneries, some of which with historic features, like old mills, or long-standing graveyards!  Then, after the completion of each hike, everyone will converse together about future hikes they'd be interested in going on. Not to mention, after each new hike they go on, there is a gradual increase in mileage for the next trip they go on, to help build up the individual's stamina.
But, going on hikes is just the start of why Get Going Granola was created. Many other goals were in the minds of the founders, Abby and Maya, on why it'd be beneficial to create a hiking club for Osbourn students to join.
"The idea behind our club was to give students the opportunity to explore and enjoy the beauty of the outdoors with their friends. We plan 1 to 2 hikes per month and select among the amazing trails VA has to offer," said 12th-grade founder, Maya Litchfield.
"I agree that the hikes we plan to do are to get students outdoors to become a healthier version of themselves as well as introduce newer hikers to hiking," explained 12th-grade founder, Abby Fairchild. "We plan to have an overnight backpacking trip close to the end of the school year. Our main goal is to help students achieve a love for hiking and the outdoors," she added.
Overall the driven passion, and ideas the creators of the club hold throughout the process of running it, make a very enjoyable time for the members that attend the hikes.
"It is a very fun experience, and a good source of exercise whilst being out in nature," said freshman member, Sophia Vandivere. "You can also make friends along the way," she added.
So what are the club's plans this year you might ask? Well the club sponsors, Mr. and Ms. Zenewicz,  have an answer for you!
"To just get outside and create opportunities to develop a love of nature and hiking!" said club sponsor, Ms. Zenewicz.
"The club's plans are to get outside and explore Virginia. Experience Virginia's Blue Ridge Mountains on trails like the Appalachian Trail. And, develop a love for the outdoors," said Mr. Zenewicz, one of the club's sponsors. "We have not planned the backpacking trip yet, but would love to do one, especially on the AT so we can see what the shelters are like," he added.
Overall this unique organization is a great addition to Osbourn's club selection! So, if you like nature, and aren't afraid of an adventure then Get Going Granola might be a perfect fit for you!
View Comments (2)
About the Contributor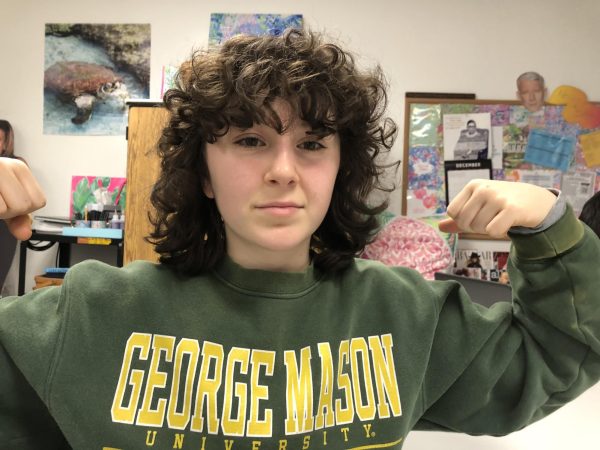 Amelia Breeden, Staff Journalist and Editor
My name is Amelia, this is my second year in Journalism. Journalism gives me the freedom to write about what I am passionate about, and that is what I...