Quinceañeras: Waltzing Into a New Chapter
A quinceañera is a celebration of a girl turning 15- it's her coming-of-age ceremony. It is a core memory for many Hispanic and Latina girls. It includes traditions like speeches, a waltz, and even a song sung by the quinceañeras herself. Months, and sometimes years, go into planning the memorable party. All the pressure can come with a great amount of stress. 
"Planning my sister's quince was a lot of fun, but a lot of work and really stressful. My parents had set up a separate bank account, kind of like a college fund. We had to get her dress and go to see different venues that would hold all of the guests invited to the party. We also had to plan which relatives would stay at our home and which would go to hotels. Just a lot of other things with who will be there and who will do everything. For my sister, we also had to check who would do the photography and who would do her makeup, as well as what food we would serve and everything about the DJ as well. In the end, we were able to rent out the Hilton ballroom, and we also got rooms in the hotel for us to sleep in and prepare for the quince as well. It was a lot of fun and I would do it again," said senior Michael Juarez-Sesam.
"Definitely make a budget and always look at the event venue before you decide on it. The dress is obviously important, and deciding if you want a court or not, too. You end up planning the day months before, like when the pictures and dance will happen. You have to make a set time or else you'll be all over the place. And music! Always have a mix ready," said freshman Tiffani Garcia.
It is a long and tiring process, but after everything, it is an incredible night and a party to never forget. Many girls say that their favorite part is not the dancing, singing, or food, but the feeling of their loved ones being all around them.
"My favorite part was definitely when everyone was singing happy birthday to me. It felt like a very happy, but an emotional moment.  I realized there were people who cared for me and were there singing to me. It felt like I was in a movie," said junior Pamela Drewy.
In some cases, families go for a more untraditional approach, not wanting to go all-out for something that may not be as significant to them.
"It wasn't a party, but more like a gathering with close friends and family. It was like a reunion for a very special and memorable celebration," said junior Loida Estrada. 
"It's my choice to celebrate because I love the idea of dressing up and having a party. I mean, essentially it will be my Sweet 16, but at 15. I also love parties, and the sentiment of everything is very sweet to me," said freshman Sarah Hill.
Even though quinceañeras range from simple family dinners to intricate and elaborate celebrations, every single one shares a common factor: a night full of love and joy. It is a core memory for many girls around the globe, and serves as a wonderful celebration of life and growing into oneself.
View Comments (8)
About the Contributor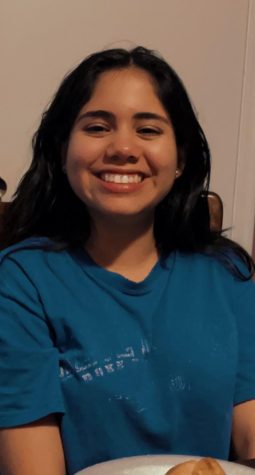 Alejandra Chavarria-Rea, Staff Journalist
Hi, I'm Alejandra and I'm a freshman at Osbourn. I would like to write articles about peoples opinions on recent topics. I am also interested in writing...