Cafeteria TVs Entertain and Enlighten Some, Inspire Suggestions From Others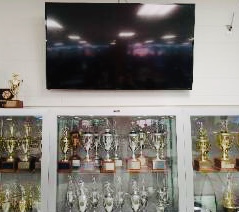 Every morning at breakfast, lunch, and during transition periods, the cafeteria features its run of channels on three flat-screen TVs. These devices were installed recently to keep students occupied and entertained whilst they eat and socialize. They stream Fox News and episodes of the show Family Guy. Every now and then, a slideshow advertises Osbourn events, such as Back To School night or the Saturday Learning Seminar (SLS).
Despite the effort to play well-liked channels, members of the Osbourn community have expressed their concerns about the lack of variety in the channel selections. They worry that a single news outlet does not sufficiently stimulate and support students' developing views of the world. This has left them questioning the choices offered. 
Students have begun to do the same, imagining which shows would play on those cafeteria TV screens if they were in charge.
"Some of the shows are random. They should put on better shows. Maybe National Geographic?  The news is smart. I'll look over at it and I'm educated on world events," said Vandivere.
Others follow with their thoughts. "I would love to see The Simpsons. Yes! The Simpsons," said Franco Zelaya.
"Action movies. Netflix would be good," said junior Damaris Turcios.
 "A lot of people like Supernatural, Master Chef, and Blue Planet," added sophomore Keyla Turcios.
Freshman Sarah Hill said "The shows played are really boring. We should stream shows that have more appeal to our age group. I recommend cartoons such as Total Drama or shows like America's Next Top Model. I would like to see shows that everyone can enjoy".
"I want to watch Princess and the Frog. Disney movies! I'd watch those," said junior Britney Batres.
"I would like to see comedy shows like The Office or something light-hearted like that. When students look at the TV, they shouldn't be seeing some random show that will bring down their already low energy. A nice cartoon or a family show– not Family Guy— would be nice to see," said freshman Aziza Zarrincalaki.
Some OHS students had ideas and suggestions that go beyond just the shows playing on the cafeteria TVs. 
 "I want bigger TVs if we have to sit so far away," said sophomore Keyla Turcios.
Even greater is the push for subtitles. Franco Zelaya said "There should be subtitles in Spanish. We need that. Spanish and English."
Overall, students seem to be glad that the TVs are there. They like them for a variety of reasons.
"[Having TVs means] having entertainment. They make lunch good," said junior Rosa Franco Zelaya.
"Yes, [they are important] for people who sit alone," said junior Britney Batres.
Freshman Sophia Vandivere agrees but added, "At least one [TV] should be on during lunch because some people sit alone or are bored, but not during the day because they can distract people trying to get to class."
Vandivere sums up her thoughts by stating that the TVs are "not a terrible idea, but they definitely need improvements."
View Comments (14)
About the Contributor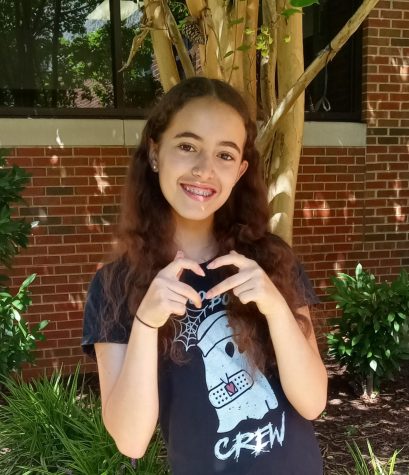 Victoria Ingram, Staff Journalist
Hi, I'm Victoria. I'm a freshman at Osbourn. I write about student opinions and student life. I'm also a big book lover, so you can count on some articles...