School, Sports, College Plans: How Do Senior Football Athletes Handle It All?
Senior football players are some of the most active students at Osbourn. Most of the time they have practice every school day and sometimes on the weekends. Practices can last up to 4 hours.  Their practice ends up being mostly the team walking through and going over plays, and getting their techniques improved for their individual positions.
A football player's schedule starts with going to school all day from 8-3:20 and then going to practice from 3:30-6:45. Sometimes practice will go past that time to almost 7:30. Their day is not over yet though. After school and practice, most of the time the seniors have homework and will also sometimes need to research or apply to colleges, which could take a while. There are days on the weekend where they practice from 10-1:30 on Saturdays, and on Sundays, they will have meetings 8:30-9-30 or longer  to go over the game plan for that week.
With all of this non-stop activity, these seniors have a lot on their plates, and staying on top of it all can become very stressful and time-consuming. Players find themselves having less free time and little time to just relax. As teachers hand out more and more work, they have more things to worry about like tests, quizzes, and making sure assignments are submitted on time.
As the year progresses, colleges essays and scholarship applications also need attention and take up a lot of time. The players have to handle all of these tasks and obstacles; they need to stay mentally focused and manage their time wisely.
"I manage football, school, and getting prepared for college by taking it day by day, doing my school work and staying on top of everything. I have to focus on resting my body and also working out and having a great mindset," said Nigel Burke.
"I have a plan of action. After going home from practice, I do my homework and make sure I have my college stuff done and make sure I'm determined to do that every day," said Ernest Amoyaw.
Some of the senior football players have to prioritize themselves and school over football so they can manage their time and stress levels.
"When I have free time, I use music to calm down, relax, and give myself a break to think," said Jahquez Salmon.
"Well, I haven't felt ready to deal with college yet, but I handle managing it well.  I'm a student first, then an athlete, so I worry about school more than football," said Kiyon Boxley.
Most of the seniors have had to juggle school and football in hopes of better opportunities for college.
"I love the game of football and always wanted to play college ball and beyond. I want to help my parents with college and leave less stress on them," said Ernest Amoyaw.
"It means a lot to be recruited and it's not stressful; it's another reason to keep working on myself," said Jahquez Salmon.
"Having the feeling of college coaches watching me gives me the courage to keep working hard and to be better every day," said Ernest Amoyaw.
The football seniors have a lot to handle and deal with, including school, college, practice, and football meetings. You would think their lives would get easier once the fall season is over, but they don't. When the football season ends, that is the prime time for college visits, and recruiting begins to amp up, so there is a lot more work to be done.
View Comments (8)
About the Contributor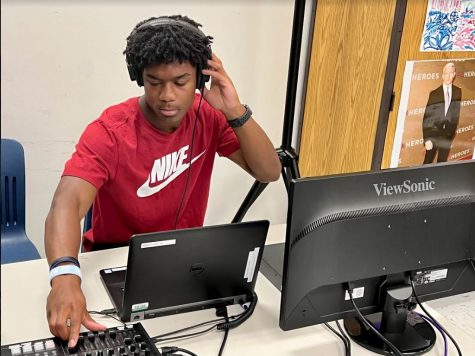 Nickolas Williams, Staff Journalist
My name is Nickolas Williams and I am in the 12th grade. I plan on covering sports in my articles and do most of the soundboard and editing on our show.