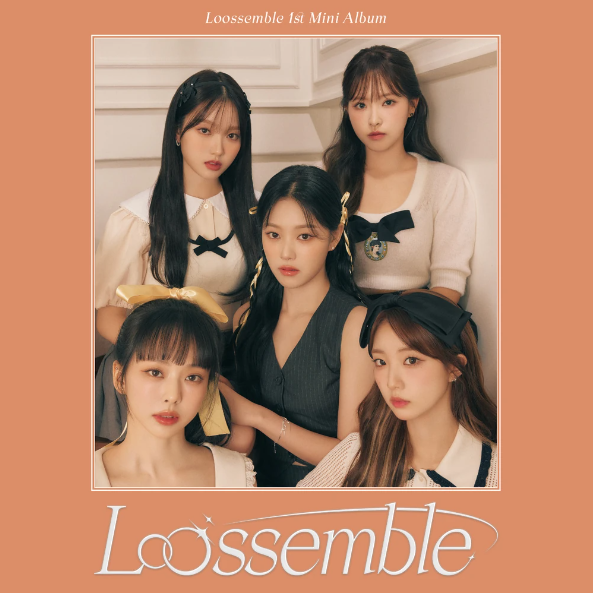 Loossemble (also known as Loona Assemble), a somewhat new South Korean girl group, has just debuted with their mini-album and fans could not be more excited. Loossemble is a 5-member girl group that debuted on September 15th of this year, which is composed of former members from a popular Korean girl group, LOONA. LOONA debuted as a full group in 2018 with the song Hi High and the album, [+ +]. After 5 straight years of unfair treatment and abuse from their company, all members of LOONA filed for their contract to be terminated and one by one, all the members were able to leave their company and pursue their careers elsewhere. Members HyunJin, YeoJin, ViVi, Go Won, and HyeJu (formerly known as Olivia Hye), all signed with their new company, CTDENM, and formed Loossemble. On August 2nd, teasers appeared all over their social media pages and their U.S. debut tour dates were announced a day later. Fast forward a month, and their debut mini album titled, Loossemble, was released on September 15th, along with their U.S. tour being kicked off on the same day in New York.
According to CTDENM's official website, the album's concept, as well as the group's concept, is about the girls going on a new voyage into space in a spaceship called 'Loossemble', with the goal of searching for new friends, also pointing out that their debut album is just the beginning of their journey. The album is composed of 7 songs and it starts off with the title track Sensitive and follows through with Real World, Colouring, Newtopia, Strawberry Soda, Day by Day, and finishes off with an English version of their title track. Some of the songs on the album were co-written by the members themselves, acknowledging their talent in not only singing, dancing, and performing, but in songwriting as well.
The album kicks off with the title track, Sensitive. Sensitive has a very bouncy, energetic, and funky beat to it with the use of guitar riffs for the instrumental, paired with a very catchy chorus and a stunning music video that shows off their fine beauty. The lyrics of the song share a kind message to the people listening, describing sensitivity and how it can form a clearer standard of themselves and how they should move forward with confidence, along with asking fans to trust them along the way, (So, sensitively takin', I want it all to my taste / Know my destination, my intuition perfect), (Just follow your own sensations / Trust every breath that I breathe, ah). The song showcases the girls' vocal abilities well, especially HyunJin and YeoJin's high notes during the post-bridge in the song. Overall, Sensitive is a strong title track and goes nicely with the other songs on the album.
Following Sensitive, Real World samples a piece by George Gershwin, 'Rhapsody In Blue', and transforms into a playful, hip-hop-based rhythm, along with multiple verses that contain a ton of rap lines. It then moves into a more laidback song as the song progresses into the chorus. The lyrics talk about the members being in paradise and asking their fans to follow them, (Well, we've finally arrived at Paradise / Look, a new door has opened before your eyes ya), (Gather here, we we we talk / On a moonlit night, we we we talk). The song is not my taste in music, but it's nice to see the girls try new sounds like these.
Co-written by members YeoJin and ViVi, Colouring is more laidback than the previous tracks, taking inspiration from the R&B genre, and conjoined with a synth sound. The song plays with a very ethereal and dreamy sound, which is reminiscent of their old sound from the members' time in LOONA, with the song sounding like it belonged in LOONA's 2019 album, [X X]. The instrumentals of the song pair well with the members' vocals, harmonizing well together. The girls sing about how much someone changed them on their journey in the song, (The day I wandered in the long darkness / The day I regained the light that was you / My life turned 180 degrees / Things change one by one). This song is one of my favorites on the album and is definitely a song I'll have on repeat.
Newtopia is a big step up from Colouring in terms of sound, with the song having an energetic and bubbly sound, sounding like music that you would hear being played at parties. The song lyrics capture the excitement of the girls as they arrive in a new, but strange world, (In front of my eyes / New new new new new Newtopia / It's better than I imagined), (A stranger whose name I don't know / It doesn't matter where / If we are together, that place is Newtopia). Newtopia definitely has to be my favorite song on the album, with its upbeat and bouncy sound, and its very exciting and fun lyrics.
Strawberry Soda, which was co-written and co-produced by former LOONA member Yves, is a dreamy and groovy song, with a very happy and fun sound, paired with lyrics talking about the girls making their dreams a reality, (Even if we become entangled and become distant / Recognize the dream you've been writing about), (Like Strawberry soda / It's time to dream, Alright?) With its jumpy sound, cute lyrics, and beautiful vocals, Strawberry Soda is a very adorable song and could be some sort of summer anthem song.
Closing off the album, Day by Day has a very otherwordly sound, as well as a slow and relaxing beat to it. This song is where the members' vocals really shine, with their voices harmonizing very well with the song, especially HyunJin and HyeJu's high note, combining beautifully with the final chorus. The lyrics are co-written by member HyunJin, talking about their hope of what's to come in the future, (Day by day it becomes clearer / In a world full of dazzling light), (Dreaming of a day that will unfold endlessly / For a better day). The song is very beautiful and definitely showcases their vocals gracefully.
We're hoping to see what Loossemble has in store for us with their future releases!