The Estate Sale: We're Buying What He's Selling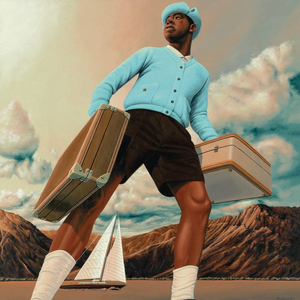 Tyler the creator might just be one of the most influential rappers of the modern scene. His style has evolved as he experimented with different sounds and scenes. Earlier projects such as Bastard and Goblin followed a more horrorcore and edgy aesthetic, and songs like She and Sarah tackled very heavy subjects, the ladder of which got him banned from the UK and New Zealand. Songs like Tron Cat had an edgy, purposefully offensive tone with lyrics too explicit to mention. However, with the release of his third album. Wolf, we would get a peek into a softer side of Tyler. Of course, there are songs like Tamale, but there are also songs like Answer, which tackles his dad being absent. This shift would be fully cemented with the release of the album Flower Boy, with a more soft R&B aesthetic. He would collaborate with notable R&B artists such as Kali Uchis, Steve Lacy, and Frank Ocean. A$AP Rocky would start a long-standing relationship with Tyler, having once feuded with a member of Tyler's old collective, Odd Future. With the new shift plenty of fans were confused and a lot were either supportive or dissatisfied with the new direction. Whatever the case was he grew as an artist and never looks back on his previous albums and always strives to make the new projects even better than they previously were. Especially IGOR, IGOR showed more of a story than anything and the first half being of him falling in love with a boy while the second part showed that the boy he was falling in love with is dating/in love with a girl and it becomes a love triangle (another thing is if you loop the track from beginning to end it creates a perfect circle with the beat)
Call Me If You Get Lost: The Estate Sale, is Tyler's newest addition to his discography, being a deluxe album to 2021 album, Call Me If You Get Lost. The original tracklist features artists like Lil Wayne, NBA Youngboy, and Brent Faiyaz. The deluxe has features from A$AP Rocky, Vince Staples, and YG. The production on the album is mostly done by Tyler himself, however, some tracks are produced by Kanye West and Madlib. For first impressions, the song STUNTMAN really gives a powerful impression of what the album entails. The beat is hard and the lyrics add to it as well, but there are also some tranquil songs that mellow out with it. All of it combined with the outro SORRY NOT SORRY makes for an incredible deluxe album that makes you hungry for more. 
My top picks would be SORRY NOT SORRY, WHARF TALK, and DOG TOOTH. SORRY NOT SORRY was the top pick from Michael because of its strong meaning and the cinematography of the music video. Tyler is seen in all of his egos from all his albums and the lyrics are about him apologizing for things that happened in his life and also mocking people who expect an apology from him. The video continues and shows him killing off his old egos with the video ending with him finishing off his most recent one "Sir Baudelaire" and the song ending with "another era is upon us" signifying that Tyler has become more grown and that he is entering a new era of music and his new album will show this, Overall it's his most favorite song and he gives it s perfect 10/10. WHARF TALK and DOG TOOTH were songs that had a more chill vibe and gave off something you would listen to on a drive in the summer while going to the beach. WHARF TALK gives off the impression that Tyler is talking to a girl to make up her mind and see if she really wants to be together or if she will go, overall a 10/10. It really is just a nice relaxing song that perfectly emphasizes the chill summer vibes and the fleeting feeling of love and how complicated it can get. DOG TOOTH gives off the impression and vibes that Tyler is trying to impress a girl and trying to talk to her as well. He doesn't want a relationship but rather something a bit intimate and something nice. He talks about buying lavish things and buying houses to show that he has a lot of wealth as well. Overall DOG TOOTH was a great listen that had moments where it was chill and other moments where you wanted to belt out the lyrics. I would give it a strong 9/10 because even though it was good sometimes I felt that it didn't have a big grasp on me at times but it's still a solid song that's really good.
Personally, the tracks that meant the most to me were the tracks produced by other producers. The track HEAVEN TO ME was produced by well-renowned producer Kanye West, who produced the instrumental for R&B artist John Legend back in 2006. The instrumental is slightly slowed down, which gives off the atmosphere of grazing in the grass during a fine, warm summer. The lyrics paint a picture of Tyler, chilling out and picnicking with his girl on his side. This song brings out a sense of reminiscing about the past while dreaming of the present. That sense is exemplified by some of the lyrics, for example, "It used to be the 'Preme hat in the green. The cheetah print on the tee. The dark wash in the jean. Soccer mom with the Vans in every color it seems. Kids push down the block cuttin' Dickies into shorts when it's hot."  This lyric calls back to the past, as Tyler used to rock streetwear brand Supreme heavily back in the early 2010s. Harkening back further in the past is Tyler's WHAT A DAY. This instrumental was originally done by famous producer Madlib, and unofficially released in 2012 with his signature sound strung across the track. This instrumental is slowed down in Tyler's release, giving off the same introspective atmosphere as the last song mentioned. His second verse is, to me, very interesting. He would spit various lines on his rise to fame and success, stating, "never needed others for my personal validation. She ain't getting touched if she cannot hold a conversation. Never had a bulky Richard Mille as a wristwatch. I never seen Amiri, never posted on TikTok. I never had desire for promethazine in a soda. Never made eye contact with a woman in Fashion Nova." He would later in the song give some words of advice to his listeners, telling them to "be their own cheerleader". Tyler's come-up was something marked with people not viewing his work the same as he did, whether it be his own mom finding out about his music when he was still in high school or his fans not liking the new directions he wants to take. Despite all these roadblocks in his come-up, he has still managed to gain the attention of every serious rap listener the world over, whether they be in the sunny streets of California or the basins of Geneva.  He was truly his own cheerleader. 
Overall Michael would give the deluxe album a 10 and Jonah also gives it a 10 with a total score of 20/20 giving it a perfect score across the board for being good with the beats, lyrics, and the features as well. If you like rap, chill music, or some nice vibes we both highly suggest you go out and take a listen.  And don't forget to call if you get lost!
Leave a Comment
About the Contributor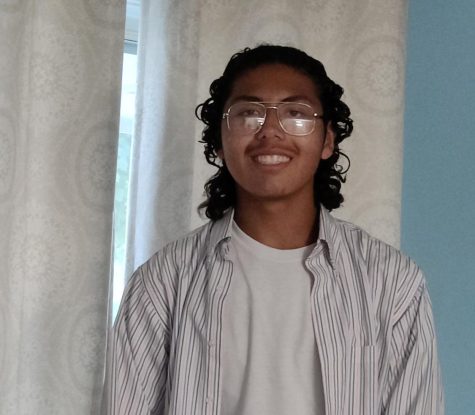 Jonah Morales-Espinoza, Staff Journalist
Aloha, I'm Jonah and I'm a sophomore. I hope to write about things happening around this school. Sports and music would also be cool.