The Lemonade Bakery: Sweet Treats on Main Street!
The Lemonade Bakery has a wide variety of sweet treats and has been around in Manassas since 2017. The bakery is located at 9410 Main Street Manassas VA 20110, and it is directly next to the Crossroads Tabletop Tavern. The Lemonade Bakery originates back to when it was a family-owned home, and baking dozens of baked goods without peanuts, nuts, or eggs. It has plenty of different choices to choose from including breakfast, sweet treats, and cakes.
When I walked into the bakery, the first thing I noticed was the delicious sweet treats displayed in front of the entrance. I got a look at the kitchen behind the display, with hardworking bakers, so I know that the sweet treats are fresh. The smell of the bakery was amazing and already made me excited to try the delicious treats. There were crotchet cupcakes displayed in front of the window, which I thought was very unique. On one of the walls, there were about 10 buckets with cake pops placed in each, hanging from the wall. Everything was placed very neatly, and organization looked like the bakery's key to succession.
The treats that the Lemonade Bakery serves for breakfast to sweeten up your morning include cinnamon rolls, monkey bread, and muffins. They have a special offer of cookies called the baker's dozen where you get 13 cookies for $12. The bakery also sells 8 different year-round cupcake flavors. They have about 34 theme cakes plus cookie cakes. There are so many baked goods to choose from, so I have decided to order a bunch and make my top 3 favorite sweet treats to get at The Lemonade Bakery.
At number 3, I would have to choose the cinnamon roll. The cinnamon rolls are known to be one of the bakery's most popular items. It is sweet, delicious, and perfect for a tasty breakfast treat. In my opinion, the cinnamon rolls are so much better when they are warmed up because then, they are perfectly soft, and the icing and cinnamon flavors complement each other very well.
My 2nd choice would be the Snickerdoodle cookie sandwich. This cookie sandwich was very unique and delicious, it was not like the other baked goods I bought. There was buttercream filled in between two Snickerdoodle cookies, and it was the perfect amount of sweetness.
Coming in first place is the Oreo fudge brownie. The first thing that made this treat my favorite was how unique it looked. On top of the brownie, it had two Oreos placed and, sprinkled with small crumbs of Oreo cookies all over. The brownie was very chewy and sweet, complimented by the delicious light buttercream.
Their prices are very reasonable. I bought about 16 items for $28. The bakery also includes dairy-free/vegan options and I think that is very inclusive to people who can't eat certain foods and still can get an enjoyable desert experience.
I enjoyed all of the delicious treats I ordered, but only 3 got to be called my favorites. I hope my list inspires you to go out and try some of the baked goods sold at The Lemonade Bakery.
Leave a Comment
About the Contributor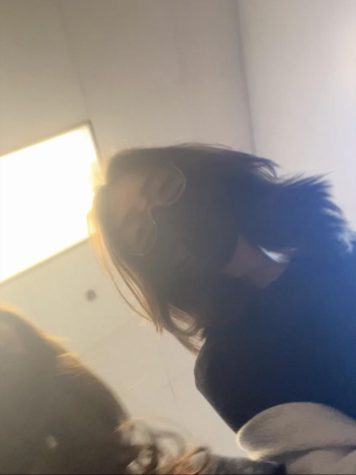 Maya Lucero, Staff Journalist
Hi, my name is Maya Lucero and I am a freshman here at Osbourn. I would like to cover topics for style, people's opinions on trends, and current events.