Five Survive, Could You? A Book Review
Five Survive is a book about Redford "Red" Kenny and her friends Maddy, Oliver, Simon, and Arthur going on a road trip to the beach for spring break. Halfway into their 18-hour trip the van they were in breaks down and soon they realize that it wasn't just unfortunate timing.
Writer Holly Jackson is most well-known for her past works in the Good Girls Guide to Murder series with a show for the series announced in late 2022 by the BBC. Five Survive is her newest related book having also been published in late 2022. Jackson's books have given her a notable spot the in book community on several social media sites like Tik Tok and Instagram. As well as the Good Girls Guide series is getting special editions being released on July 13th and 14th with exclusive art, book covers, and signed books being produced by the book subscription service Fairy Loot.
The events book takes place over only eight hours so you could try to read along and feel the suspense along with the characters. Having a set time frame helps with the reading experience and gives the reader the feeling that they too are also under the same pressure as the characters. As with Holly Jackson's other books, the twists are connected and woven into the plot. This book also shows the readers how cause and effect can come into play in ways that can change which character.
While Red is coming to an end of her grief surrounding her mother's murder her friend group takes an 18-hour trip to the beach. In this friend group, there's Red herself, her best friend since childhood Maddy, Maddy's brother Oliver, Oliver's girlfriend, Simon, and Red's recently acquired crush, Arthur. Around 9 hours into their trip, the van they were renting breaks down in the middle of nowhere alarms are raised but when their phone service is cut they all come to the conclusion that this wasn't just a series of unfortunate occurrences. The worry that the group starts to have are only cemented when a message is transmitted to them by the radio. Over these 8 hours, secrets are revealed, and long-standing bridges are burned.
My thoughts on the story are overwhelmingly positive. The story can seem to be working with too much at times. For example, too many branching plotlines that seem like they won't go anywhere let alone connect in a way that would be satisfying to the reader. Another thing that could be said is that there are some parts that are just used to show how much danger the main characters are in. These parts don't add anything more to the story, the readers can already infer how bad the bad guy is so this leaves a feeling that these chapters were just used to fill pages.
Other than filler subplots the story and plot as a whole are great. Reader attention can be both grasped and retained for the duration of the book and the previously mentioned branching plotlines all come together to make a cohesive and satisfying conclusion.
Leave a Comment
About the Contributor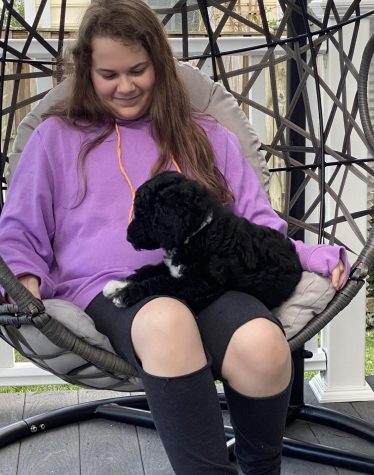 Megan Pope, Staff Journalist
Hi! I'm Megan and also a sophomore here at Osbourn. This is my first year taking journalism. I'm looking forward to writing about some of the more social...