In The Wings With Technical Theater (Updated)
Osbourn offers two kinds of drama classes: technical theater and regular theater. Both provide backgrounds and teach students the corresponding skills needed for each realm of study. Tech. theater classes focus on the basics of modern stage, lighting, and costume design. The history and how we have all the modern implements are taught with how to work behind the scenes of a stage production.
"Both tech theater and the normal theater classes are equally rigorous, but in different ways. Obviously, the rigor increases at each level with theatre 3 and 4 being the most rigorous. Technical theatre 2 is the highest at which tech theatre is taught," said Mr. Kite.
"Technical theatre focuses on the design and practical elements of theatre whereas performance-based courses are focused on acting technique, ensemble building, and connection to the emotional self," Kite continued.
"It's got good vibes. It's not too hard, and he's learned to be less strict than he used to be, which is nice," said Emmie Michalek
"The class wasn't what I was expecting, at least at the beginning since it was mostly written work more than hands-on and in-the-scene shop, but not actually horrendous. It was mostly notes and drawing honestly which I'm chill with," Emmie explained.
Stay tuned for updates on how technical theater students assisted with the spring musical!
Ever since the spring musical (The 25th Annual Putnam County Spelling Bee) finished its run, the technical theater department has been continuing its work on cleaning out the scene shop, as well as embarking on clearing out the theater room. The classes are also in the prosses of designing their own idea for a new layout for the theater classroom, in the form of a to-scale drawing of their ideas for the room. Then when the final design is chosen, that's what the classroom will look like next year! This activity is coming just in time for the technical theater classes to finish set design and start on their costume design unit.
The tech theater classes are continuing their unit on costume design and composition even as the end of the school year approaches. To start students off, Mr. Kite showed students several basic kinds of sewing stitches. Students were even allowed to apply them in a practice that helped their sewing skills for this costume unit.
View Comments(1)
About the Contributor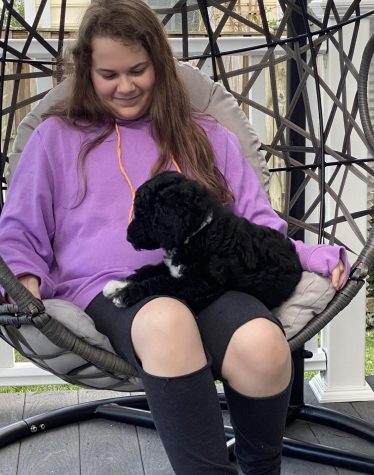 Megan Pope, Staff Journalist
Hi! I'm Megan and also a sophomore here at Osbourn. This is my first year taking journalism. I'm looking forward to writing about some of the more social...