Spring Along With Track and Field (Updated)
With the season shifting from winter to spring, track shifts from indoor to outdoor. As a student-athlete there are many trials and tribulations when it comes to participating in track and field during the spring season, whether that be tests, injuries, school assignments, or the weather. On March 25th, 2023, the outdoor track team had its very first meet and it was definitely an experience. To start off with, the weather was absolutely not in the athletes' favor, as it was raining heavily at the start, the team did not have an umbrella, and some said it was colder than the Arctic at times. The meet would start with the 4×8 relay, and our athletes certainly had a time. The first leg was junior Damani Epps, and the last leg was senior Seth Vandivere.
"I didn't feel too great. I feel like I didn't do badly, but I feel like I could've put a lot more effort into my run. The weather also kinda made everything suck, because we were wet and cold, would've helped if we had a tent. Indoor 800 relays feel a lot more competitive, with a lot more people, and a lot more depth. Outside has a lot bigger track, and I felt like we had to try more indoors," said Seth Vandivere.
It was teased by the coach, Mr. Holsclaw, that the relay team would not run the 800, but the 4×1600 instead.
"I'll run it, it couldn't be that bad. It's not my race though, so I wouldn't make it something I'll do regularly. I would do it here and there as a nice little warm-up," said Damani Epps. Damani Epps is one of many athletes whose primary focus is on the mid-distance, 400m to 800m. Last leg Seth Vandivere does anything from 800m to 1600m. "I've run the mile before, but running it in a relay in that weather and in that condition, I would have not wanted to run that. I'm glad we ran the 4×800."
After this race comes the 4×200, headed by sprinters Laura Diaz, Rocio Ramos, Nicole Elueme, and Kaya Graham. One of the more exciting portions of this meet was the coaches' relay, however, none of our coaches were featured in the relay.
"Coach Holsclaw would be best suited to run the relay," said sprinter Indiana Brown, the coach himself looming in the background. "He would run it with them old knees," Brown joked.
The event preceding this relay was the throwers' relay, and it also had much fanfare. At the end of the day, the track meet went off without much trouble and it was a great way to start off the season, our athletes are super excited for our next meet on Wednesday.
The second meet for the season was certainly a major change compared to the less-than-ideal conditions of the first. Temperatures were pleasant, and many of our track stars would see this as a nice change of pace. The relay team for this meet was alone this time and ran along with the 2 mile. The 2 mile featured only two athletes, one of those being Jonah Morales-Espinoza. He broke his last time of 14 minutes by 3 minutes, and got 1st place.  The other races were successful, Damani Epps ran both a 400m and 800m with relative ease.
"The 400 was tiring, I mean, it's not the hardest race it could've been, I had done a lot better, but overall it was a fun race and I did pretty ok," said Damani Epps. "I have mixed feelings about running the 800m now, I'm not nervous anymore but I am kinda tired, and I don't know how that's gonna go. Might as well finish it out because of spring break coming up, we aren't gonna be in a meet in a long time. the 400m is a fun race, but I wouldn't suggest it."
Sprinters Sahnie Jackson and Keeniyah Jackson got top spots in the 100m dash, 3rd and 2nd with times of 13.26 and 13:24 respectively. Those times look close, but every second counts in sprinting events like these.
Osbourn would host its first track home meet on April 10th, 2023. A beautiful day, the forecast was predicting it to be sunny with a high of 66. The meet would kick off with the 4x800m relay, with Seth Vandivere, Erick Rivera-Lovos, Omar Ochoa-Munoz, and anchor Edward Hernandez-Zambrano.
"I ran the 4×800 and the 800 meter, and I felt nervous about running for my event but I prepared enough. I would say that it's hard because you're trying your best to not fall behind and keep a steady pace. I would recommend this event to someone since it feels very rewarding to improve your times and to compete," said Edward.
Many sprinters at the meet got top places, Christopher Binet got first place on the 100m dash with a time of 11.33. Edward "Peanut" Hogan Jr. also took first place in the 200m dash with a time 23.46.
"I think my race was good, I got first place and I set a PR. I feel like there was little competition but it wasn't crazy, I knew I was gonna win," said Chris. "I think at invitationals you're invited, so there's gonna be more competition, but this was just a regular meet with regular opponents."
The next meet was an invitational in Woodgrove High School, and it was a 6-hour endeavor not including the hour-long bus ride. Many PRs would be set at this meet, and many of our teams would get top placements in this meet. Our boys 4×100 would get 4th among 18 other teams.
"I feel like we did good, but I feel like we could've done better. We qualified for regionals, but I feel like our time could've been lower. The competitiveness is there, it's actually very good,  helped me lower my time at the 4×100 and play my part. Invitationals are for sure more competitive than other meets. Hopefully, next meet the 4×1 we can clear a mid to low .43," said Peanut.
The next meet is at Colgan High School, and it's another invitational a lot closer to home.
Stay tuned for additional updates as the season progresses.
The Colgan Invitational was unfortunately cut prematurely,  due to the adverse weather conditions. Rain was on and off until the afternoon when an intense rainstorm canned the entire event. That left more than half of the events untouched, but the events that were run were excellent. Seth Vandivere would get a new PR for his mile time. Sprinters and Hurdlers would run their events before the rain came. The weather can always be better, but despite the less-than-favorable conditions our athletes always keep their chins up!
"As a sprinter, the weather has been on and off. It's been good for a couple of meets and whenever the weather is nice I PR in at least one event. It's been a little cold and we had to cancel a meet for the rain but the Unity meet was very nice and warm. My goal for the district meet is to correct my form in the next two weeks, and to jump harder and farther than I ever have," said sprinter Mohamed Taha.
"Weather has not been favorable and it is hit or miss to the individual athletes that have adapted to compete in bad weather," said distance coach T.D. Holsclaw.
How does adverse weather affect throwing and jumping? Does it affect it at all? While our spotlight has been on the people on the track, that's only half of what Track and Field is about, literally in fact.
"Weather affects throwing because either we're throwing shot or disc and the disc or shot gets muddy so we have to bring a towel to wipe it off. If we're throwing disc it gets pretty slippery and we're not performing at our best because of the weather circumstances. The weather has been in our favor these past few weeks." said thrower Jackie Cerrito Iraheta.
"Weather makes your jumping seem shorter than usual because it makes you go back. Gravity doesn't support you, so you gotta go back. I did not jump well at Colgan, I jumped a 13.2, which is really bad, because of the wind. The wind and the rain made the sand all clumped up," said long jumper Rocio Ramos.
The team's next meet was on April 25th, a smaller one at Unity Reed High School. Coaches have described this meet as speed practice for the invitational on Friday at Fauquier High School. Smaller meets are a great time to try out different things, as mid-distance runner Damani Epps is trying both the 1600m and the High Jump, having not done either this whole season. He would end up with the season's best for the 1600m, with a time of 4:54.
"It was something I've never done but I was confident I could get it done and honestly it was really comfortable I wasn't going my best but I was definitely trying all in all it's a fun race to do and I'd definitely do it again," said Damani Epps, describing the event in just one word, new.
That meet at Fauquier would sadly never come into actuality, due to the intense weather conditions in the morning. This leads to only one invitational before districts. That meet would be at Patriot High School on May 3rd, 2023. The weather over the past few days has been in stark contrast to how it was previously, days that were once 70 degrees are a rarity, with temperatures this week in the 50s. Despite the weather conditions, some of our athletes got some pretty big PRs. Senior Michael Juarez-Sesam had a 5-second PR for his 800m race, seeing him soar to first place on his heat. Senior Will Maceyak would also place first in his heat for the 400m.
"For my last meet I'd say it went pretty well I didn't pr in any of my events but I got first in my heat for the 400 and third in my heat for the 200. I'd say the proudest part of this season for me is how much I have approved since last year and track and field in knowledge and strength and speed," said Will Maceyak. "My goal for districts is to PR in the 400 by 1 or 2 seconds hopefully."
"My 800m didn't go the best because I had to be the leader of the race and when that happens sometimes people can be put at a disadvantage but imma get things tidy for districts. My goal is getting as far to 1:58 as I can because I'm gonna need those types of times if I wanna be ready for districts and states," said Damani Epps.
View Comments (5)
About the Contributor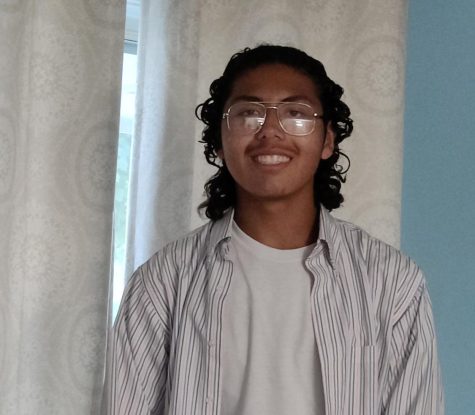 Jonah Morales-Espinoza, Staff Journalist
Aloha, I'm Jonah and I'm a sophomore. I hope to write about things happening around this school. Sports and music would also be cool.