Important Graduation Information For Seniors (English and Spanish)
Requirements for participation in May graduation exercise:
Completed all requirements as determined by the Virginia Department of Education to qualify for graduation

Returned all school materials and paid any outstanding fees associated with MCPS

Summer graduates will not participate in the May ceremony, but will be honored at an August ceremony
Procedures for ceremony:
Graduates should arrive at Eagle Bank Arena by

11:00 am on Friday, May 26, 2023

Graduates should park in Lot A on the North side of the arena 

If a graduate is riding to the ceremony with other guests, the graduate will be dropped off at the South/   East side of Lot A near the loading dock 

Upon arrival, graduates should locate their assigned line (based on last name) and check-in with the teacher line leader.

Graduates should not bring personal items that will need to be visibly carried during the ceremony (i.e. purses, flags, hats, sunglasses, etc.) 
Attire:
Graduates are required to wear a blue cap and gown. Please see Ms. Erickson in Counseling if you need assistance with purchasing a cap and gown.

Tassels are to be worn on the right side of the cap

Appropriate decorations are permitted on caps

Graduates may wear a stole to honor their heritage, but flags will not be permitted

Graduates are to wear either a dress or dress pants/skirt and a top/collared shirt and a tie. Dress shoes should be worn (no sneakers). No blue jeans.  Extremely high heels are discouraged for safety reasons. If you need assistance with clothing, please see Ms. Dotivala in Room 1170 or Ms. Gainard in Room 1189
Etiquette: 
Male identifying students are reminded to remove caps during the

Pledge of Allegiance

and national anthem

Silence and stow cell phones 

Follow instructions promptly

Remain quiet when a presenter is speaking
Guests
Venue opens for guests at 11:15 am

Concession stands will be open. 

Guests must park in general admission lots

Eagle Bank Arena Staff will aid individuals needing seating or mobility accommodations

Balloons, signs, and noise makers are prohibited

All bags will be searched by Eagle Bank Arena staff upon entrance.
Requisitos para participar en el ejercicio de graduación de mayo:
1.1      Completó todos los requisitos según lo determinado por el Departamento de Educación de Virginia para calificar para la graduación
1.2      Debe devolver todos los materiales escolares y pagar cualquier tarifa pendiente asociada con MCPS
1.3      Los graduados en escuela de verano no participarán en la ceremonia de mayo, pero tendrán una ceremonia en agosto
  Procedimientos para la ceremonia:
2.1      Los graduados deben llegar al Eagle Bank Arena a las 11:00 a.m. del viernes 26 de mayo de 2023
2.2      Los graduados deben estacionar en el lote A en el lado norte de la arena
2.2.1  Si un graduado es traído a la ceremonia por sus invitados, el graduado será dejado en el lado sur/este del lote A cerca del área de entrada
2.3      A su llegada, los graduados deben encontrar su línea asignada (basada en el apellido) y registrarse con el maestro líder de la línea.
2.3.1  Los graduados no deben traer artículos personales que se visualicen al transportarse durante la ceremonia (por ejemplo: carteras, banderas, sombreros, gafas de sol, etc.)
 Vestuario:
3.1      Se requiere que los graduados usen su toga y birrete azul. Consulte a la Sra. Erickson en consejería si necesita ayuda para adquirir su toga y birrete.
3.2      Las borlas se deben usar en el lado derecho del birrete
3.3      Se permiten decoraciones apropiadas en los birretes
3.4      Los graduados pueden usar una estola para honrar su herencia, pero no se permitirán banderas
3.5      Los graduados deben usar vestidos pantalones/falda de vestir o vestido y camisa de cuello y una corbata. Los zapatos de vestir deben usarse (no zapatillas). No jeans azules. Los tacones extremadamente altos no se recomiendan por razones de seguridad. Si necesita ayuda con la ropa, consulte a la Sra. Dotivala en el aula 1170 o la Sra. Gainard en la habitación 1189
Protocolo
4.1      Se recuerda a los estudiantes identificados como hombres que deben quitarse el birrete durante el juramento de lealtad a la bandera y el himno nacional.
4.2      Los celulares deben estar guardados y en silencio
4.3      Sigan las instrucciones sin demora
4.4      Permanezca callado cuando el presentador esté hablando
Invitados
5.1      El lugar abre para los invitados a las 11:15 am
5.2      Los puestos de concesión estarán abiertos.
5.3      Los invitados deben estacionar en lotes de admisión general
5.4      El personal de Eagle Bank Arena ayudará a las personas que necesitan acomodaciones con sus asientos o movilidad
5.5      Los globos, letreros y cosas que produzcan ruido están prohibidos
5.6      Todas las bolsas/carteras serán revisadas por el personal de Eagle Bank Arena a la entrada.
Leave a Comment
About the Contributor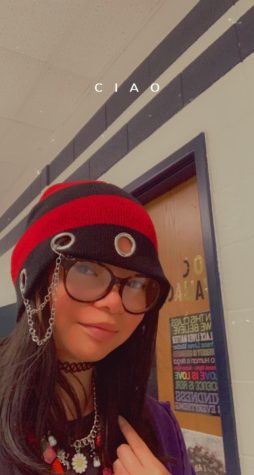 Alexis Valdez, Staff Journalist
Hi I'm Alexis. I am 12th grade. I hope to write about mental health issues.