Sneaker Trends at OHS: Which Kicks Will Up Your Street Style?
Sneakers became such a big deal back in the day. So hence, Sneakerheads. Sneakerheads are known most for their love, dedication, and skills when it comes to sneakers. They trade, stay consistent with whatever is trending at the moment, and have much knowledge about the shoes they own. Some sneakers are expensive and very hard to find. Although the beginning of the sneaker obsession wasn't off to a great start in the beginning, according to The Globe and Mail, "It started in the 1970s, when NBA scouts were turning their attention to street basketball players, and street style was coming into focus as a result. Breakdancing and hip-hop were budding forms of art. It was a moment undoubtedly driven by Black culture in America."
Since the 1980's, "sneakerhead" is a term for people whose interests are shoes. They aren't just interested in the shoes, it's even become a hobby for them. They hunt down drop times so they can get the shoe before it's gone, they camp outside stores, they buy shoes and sell them, and sometimes some sneakerheads go out of their way to make the shoes seem better than the original. Although many students at OHS wouldn't call themselves sneakerheads, they would rather call themselves shoe collectors, or shoe experts.
The shoe experts we talked to placed great importance on the comfort and style of the shoes they choose. "I look more into unique styles, ones that are different from what everyone else wears," began Irving Aguilar, "I like when the shoes are comfortable and cozy, I prefer those compared to the uncomfortable ones. I like general sneakers like Jordans. I also really like Uggs and Yeezy slides."
Asking various people about shoes, they are going to have their specific opinions and tastes. "I enjoy how basic Vans are," said Sahara Aliyar, a sophomore. "They're pretty affordable and on the website, they let you choose which design and shape you want your Vans to be; same with Converse. I just think that's pretty neat, but mainly I wear Jordans with those basic colors like black and red. "
"I like Jordans in general, I think that the red ones specifically are good," said Jonathan Urias, "Like those Air Jordan 1? They look so good in red."
"Dad shoes. They're retro style and chunky, I prefer those over those hype beast ones, like Jordans," said Sebastian Santos, who is a junior.
"I prefer cute designs and looking into the comfortability of the shoe," said Litzy Abrego, who is a sophomore. "Those red boots and Doc Martens though? Hideous. I like those pink Dunks more. I only get those shoes that don't mess up the back of my ankles."
"Pumas are underrated, but it's for a good reason, they're not that good," said Jonathan Urias. "Besides them, Suede Classic XXI in blue, they're nice."
"I look for Nike designs, the logo, and swoosh keeps them fresh, unlike Jordans- they're overhyped and too expensive," said sophomore Kellen Reid. "Those New Balances are extremely underrated, they're comfortable and affordable."
Besides comfort, colors are also important when people choose their shoes. Colors that express something, or just colors that they like. "Red and black are so overused. Almost every pair I see is either a mix of red or black. Companies should use orange and yellow more," added Reid.
"I feel like black is the one overused color. I get the concept of black goes with everything, bottom to top, but other colors should get some light too, like rosemary green or tan," said Abrego.
"White and purple with black should be used more compared to the other basic colors that they put black with," said Irving.
"Red and black are a good combination, but I feel like companies should use more natural tone colors, like brown and light green," added Sahara.
"Black and white are extremely overused. Sneaker companies should use more green for profit. By profit, I mean to catch the younger generation's eye since many use it for the aesthetic of their styles. Myself, I've loved the color green since middle school, and it's an easy color to style up." added Sebastian.
"I think that black and white are overrated since it's been used so much since back in the day. I just think any shade of blue could be used more, like indigo or lapis," chimed in Urias.
Along with comfort and colors, there are also prices that many shoe collectors like to talk about. From their most expensive to their least expensive."My most expensive shoes are Jordan Cool Greys, they have very good quality and are stylish. I got them for around $200," started Mr. Whiting, "My cheapest, but good quality shoes would be Chugs and Vans. Most of the shoes are a good $40 as well. I'd spend $300 on shoes because I have family, so, of course, I have to spend on my kids."
"My most expensive shoes would be Cool Greys for $200, I just wanted to buy them because I liked them," explained Mackenzie Sanchez, "The most amount of money I would spend on shoes would be $300, but it doesn't matter to me 'cause my parents pay for it," added the sophomore. "Cheapest but quality shoes would be Dunks for $150."
"I bought the New Balance 920 Triple Black, and I liked how dark they were. They were $220, so to me, it isn't that expensive compared to other shoes," said junior Amonte Williams. "I liked how the material looked and felt."
"I got the Varsity Royal Boy Jordan 3. They are not hard to walk in, the blue is very bright but they are very comfortable," said Jayden Hill. "They were $190 so they weren't that expensive to me" added the junior.
"Most expensive shoe I've bought would be DG 1s, they cost $1,500. The cheapest shoe with good quality I've bought would be Air Forces for $100. I buy and sell shoes, so I always try to get a shoe for its best price," said Mr. Copeland.
"I would spend $500 on a shoe if I wanted them," said Naiylah Abdelqader. "My favorite shoes would be the Jordan 12, I spent less than $300 on them. My Air Force are my cheapest pair of shoes with good quality. They're comfortable and I can wear them anywhere because they go well with anything."
"I spent $400 on a pair of Yeezys. Those were my most expensive shoes, but I sold them after. I would spend over $800 on shoes, not for myself but for my daughter," explained security staff member, Mr. DJ Johnson. "My favorite pair of shoes would be the Wolf Grey High Tops. They are very stylish and have good quality. I bought them because I had just moved and I needed new shoes. Air Force shoes would be the cheapest shoes I've bought so far."
Air Force shoes run around $90 to $150. Quite affordable.
"The Jordan 11 Cap and Gown are the ones I got purely based on luck. They're known to be $850 to $1,000, but I got them for $450. But I would spend $800 on a pair I want," said Tey Barbour. "My Air Force would be my cheapest shoe with good quality. But those Jordan 4 Fire Reds have to be my favorite ones so far."
"The Cherry Elevens would be the most expensive shoe I've ever bought, and they were $302," said Tay Faison, "I would spend $300 on a shoe I wanted. Jordan Twelve Royalty- they were $147, and they were tough and good quality shoes. The Cherry Elevens have to be my favorite pair of shoes."
"Balenciaga's are my most expensive pair, they were $500," said Ryley Hogan.
"I would spend $2,500 on a shoe I want. My favorite pair of shoes would be my Jordan 6's, which were $250. The Jordan 4 Motorsports were $500. I bought them because I got them for a deal," said Noe Aguilar. "I would spend $700 on a shoe I want if I had the money. The New Balance is 990 V5, which cost me about $180 and is also good. My favorite shoes would be the Yeezy Foam Runners; these are my favorite because they are comfortable and I can style them easily."
For decades, there has been a profound interest in sneakers, with comparisons, conversations about them, and admiration for them as a whole. People are willing to buy shoes no matter the price if they want them. Many students at OHS choose their shoes by their personalities, and how they want to be identified by their shoes. Shoes say a lot about a person's style and about what they value.
What are YOUR must-have sneakers for spring? Tell us in the comments!
Leave a Comment
About the Contributor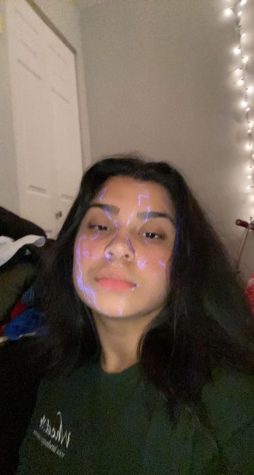 Mackenzie Ferman, Staff Journalist
Hey,  I am a junior this year at Osbourn and I plan on becoming a better writer by writing articles on really anything besides sports since that's not...