Keeping The Fun in School Fundraising Efforts
With all the things provided to us by schools like food and events, it's easy to overlook how the school gets these things. It's not magic, they don't just get the funds for these things out of thin air. The school gets their funds from the public, through fundraising. Fundraising can come in many forms, big and small, for a plethora of school organizations. These school organizations include the various sports teams and other extracurricular activities.
"So this fundraising is for our track program to eventually buy warm-ups for our track athletes," said Ms. Rose. "The track fundraising event has been going on for a while now and it has also gone on for previous years as well. This year the track and field team decided to sell fruit snacks for 2 dollars for the indoor season however now that they are in the spring season they shall be selling them for only 1 dollar." Coach Lauren Rose said that "this year the fundraising wasn't very successful, possibly due to the higher price, as previous years they sold for a dollar. The fundraiser was to help the track athletes and was used to buy warmups, buy transportation, as well as equipment that we want to work towards. We also need a new camera stand as well as a few new shots, it also helps with meet fees.  It's just mainly to help out the track team. The track team as well will be doing concessions, more fruit snacks, and also a secret fundraiser that the athletes will definitely enjoy, so stay tuned for that one!"
Lacrosse has been doing fundraisers as well, and they have definitely attracted some attention. They had the poinsettia sale and the dining for dollars fundraisers. While the lacrosse coach said that the poinsettia sale wasn't the most successful, the dining for dollars was, and they might do more in the future. If you were wondering what lacrosse does with all that money, they use the funds for buying equipment, uniforms, transportation, and many other things. The coach said that the process isn't very stressful, however with some fundraisers it's just a lot of logistical things as well that you have to do, and it can definitely take a lot of time and be a lot of work. But in the end, it's definitely worth it and the lacrosse girls helped a lot with it. Some possible future fundraisers that the lacrosse team might do will be some gift cards, a car wash, and more dining for dollars. So be on the hunt/lookout for more fun fundraisers coming from both the track team and the lacrosse team.
Some students do the fundraising because they are required to. However, a lot of students really do enjoy the fundraising process and enjoy being able to help the program they love and possibly get new things with the money they raise.
"I do fundraisers to provide my students with musical opportunities they would normally not have access to in orchestra. This year the goal has been to raise funds to bring in professional string musicians to come work with the students," said Ms. Lamons. "I bring in a professional violinist, violist, cellist, and bassist to work with each instrument section respectively. This allows for students to receive instruction specifically for their instrument. There are many skills and techniques that are a challenge to teach in a classroom setting; some techniques can be impossible to teach in a large classroom. The students get an idea of what it might be like to have a private lesson, working one on one with a professional string player. Private instruction can propel our understanding and learning forward and give us access to more challenging music. We sold mums in the fall and we did a yummy pie fundraiser in November."
Fundraising is not just for sports teams and musical groups. Clubs such as the Key Club, FBLA, Interact, and the SCA also work hard to raise money throughout the school year. SCA and Interact are both sponsored by social studies teacher Mr. Whitley. 
"Where the funds go depends on who's running it. If it's SCA it goes to their fund, usually for homecoming. For Interact Club, when they fundraise it goes into their fund for graduation swag. For the Class of 2024, the funds that have been raised go into their account, which covers prom this year. I would say that our fundraiser for the Cupid Grams has been very successful, we made double the profits we were expecting," said Mr. Whitley. The Cupid Grams were a fundraiser headed by the Class of 2024, and they sold flowers with a message that would be sent on Valentine's day.
"At this point, I don't know if we'll do any additional fundraising this year," Mr. Whitley said.
Another club would do something similar in light of Valentine's day, that club being the Key Club. They sold goodie bags with various valentine-themed goodies. The club is sponsored by Ms. Zenewicz, but most of the activities are headed by its officer, Briseida Gamez.
"Key Club helps fundraise for services in need of help. Currently, we have been helping animal shelters in need of supplies by having students donate needed items. Our Valentine's Day fundraiser went well, despite a few bumps along the way we managed to sell all of our bear bags. Currently, we do not have any fundraisers planned for the future, however, we do plan on continuing our bear grams for next year. For students to get a fundraiser going they must be able to properly advertise to get any sales. It can be very hard letting everyone know what you have to offer which is why you must be willing to spend time promoting your fundraiser," said Briseida Gamez.
Another club that does fundraising in the school is FBLA; their most recent fundraiser was selling Capri Suns and chips. The sponsors of this club are Mr. Cornetta and Mr. Jagadev.
"Our fundraisers bring in funds to help pay for things like membership dues, competitive events (where FBLA gets to show their skills against other chapters), conferences, and various other expenses that come with running a student organization. They also provide members the ability to gain business experience on a small, low-stakes level. Some fundraisers are more successful than others. For example, selling popcorn earlier in the year at the Eagle Tailgate was more profitable than our most recent fundraiser, selling chips and Capri Suns. But both have helped support the club while also providing a more valuable business experience, learning about markup, profit margin, marketing, and determining the ideal price point. Overall, the fundraisers fit their purpose and provide the needed funds to allow members to accomplish their goals with the club.  We are always looking at what sort of fundraising we need in order to accomplish our various goals and aspirations. While there are no currently scheduled fundraisers, we are planning around potential options that will provide greater business and leadership opportunities like developing, creating, and selling various items such as shirts, cups, bottles, or other items that may be of interest," said Mr. Cornetta.
As of February 28, 2023, school-affiliated clubs and teams cannot fundraise during the school day with snacks. This is because of the Healthy Hunger-Free Kids Act of 2010, signed into law by President Obama which funds nutritional programs for lower-income students.
"We have to be in compliance with the Healthy Hunger-Free Kids Act of 2010 and in line with Smart Snacks. What that means is that we can't sell,  for example, donuts or pizza. That puts us out of compliance, so we're just looking if we're doing everything right. Now sports teams and clubs have to sell food to family members, neighborhoods, or within a half hour after school," said Mr. Ellenberger. "The biggest thing I see it impacting is clubs more than the sports teams. Instead of fundraising with snacks, teams and clubs can sell concessions at school events and games to get a portion of that profit."
Leave a Comment
About the Contributor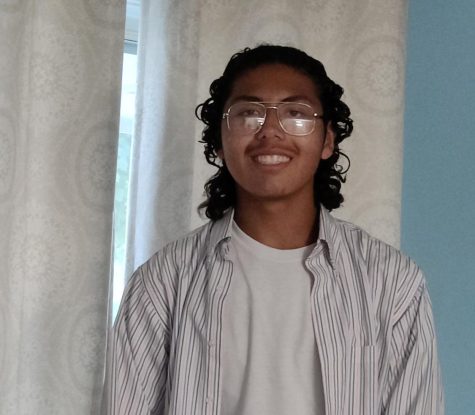 Jonah Morales-Espinoza, Staff Journalist
Aloha, I'm Jonah and I'm a sophomore. I hope to write about things happening around this school. Sports and music would also be cool.