Fast Food Wars!
In today's world, there are many variations of the same dish concepts, all offered at local fast-food restaurant chains. Some of the favorite local fast food places are Arby's, Burger King, Chick-fil-A, McDonald's, and Wendy's, in this case, all American-based menu variations. In this article, our task is to try certain items from the fast food restaurants listed. We will be trying the ice cream, sandwiches, fries, and nuggets from all five places. We will then judge and review, giving our honest opinions and ratings. We will be describing each dish and saying what we liked or didn't like about the items. In the end, we will name five final winners, one from each menu item category. We hope to give you guys our best combinations, where to buy your ice cream, sandwiches, fries, and nuggets to piece together the perfect meal. 
French fries are one of the most popular sides ordered with entrees and are a food with a deceiving name. "French" fries have nothing to do with France — instead, they're from Belgium but popularized by American fast food chains, in particular McDonald's. Their fries have a unique thinness that is not present in any other chain's fries, yet this uniqueness feels like a setback. When you eat a McDonald's fry, it just feels lackluster and flavorless. McDonald's tastes like a 2.5 out of 10.
Chick-fil-A is the complete opposite, with gigantic waffle fries which can only be eaten comfortably one at a time. Each individual fry has its own personality with some fries being stuck inside of each other and you're never left feeling hungry. The waffle shape in some ways does make the seasoning of the fries worse because it makes it difficult to evenly salt and season every fry. These factors justify Chick-fil-A's 8 of 10.
Arby's is perfect at seasoning fries with a never seen before seasoning that does feel a bit subjective. Some of our group found this seasoning to be overpowering and felt it took away from the potato taste. Arby's is also the only fast-food chain to offer two different shapes of fries: curly and crinkled. Curly fries have an untraditional feeling to them that doesn't really have downsides. Arby's gets 9.5 out of 10.
Burger King caterers to those who enjoy fries with potato skin. When eating their fries you could taste that they were fresh, as they had a light potato feeling and were very hot.  Burger King's fries were a bit too salty but you can always request lightly salted upon ordering. Additionally, the fries had a certain crispness that Mcdonald's and Wendy's lacked. Burger King deserves 7.5 out of 10.
Despite this, Wendy's fries were presentable, but that's really it. Their fries tasted as if they had been air fried, which was not a good taste. Their fries also tasted too much like potatoes, which was something that no other fast food chain struggled with. Wendy's fries felt like a last resort food — unless we were desperate, then we would never go out of our way to eat Wendy's fries. Wendy's is worth a 5.5 of 10.
Altogether we decided Arby's curly fries were the best out of the bunch. They had amazing flavor, were served fresh, and were unique in a way that no other fry could copy. A close second would be Chick-fil-A; their waffle fries were impressive and consistent and something not to be taken lightly.  
Burgers and sandwiches are a big part of fast food choices. Many people tend to stick to burgers rather than sandwiches for their meals. We prefer burgers more than we do chicken sandwiches because we feel like they're so small and don't bring excitement to our taste buds.  On the other hand, Burgers have many more ingredients and toppings to enjoy than chicken sandwiches do, as we find them so boring and plain. 
Arby's sandwiches didn't really excite us. They were missing much more flavor, and toppings, and it was lowkey dry. They could have done such a better job, We felt like we were eating bread with no spread. Arby's will be the worst, in my opinion. I rate them a 5/10 overall and hopefully, they can do better next time.
Next on the list was Wendy's; now we loved Dave's single a lot but do think the burger is a bit small and needed to have a bit more added to it. Maybe like a 3rd bun. A triple burger would really be amazing and more meat would add much more dazzle to it.  Although Wendy's came 4th place, we rate it a 7/10.
Next in this fast food war will be Burger King. Everyone knows Burger King is known for their huge Whopper. We really loved this burger and enjoyed it a lot. It has all different types of toppings and we really enjoyed the sauce they put on the burger. It's so good and it just brings the whole burger together, and their buns are so thick. This sandwich fills me up very quickly and we really enjoyed it. Overall we rate it a 9/10.
Next up is McDonald's. We tried the Big Mac. McDonald's is known for their Big Mac and the sauce they put on it, and we really liked it. We loved their Big Mac sauce, which is what they put on the burger. It's so delicious it brings out the whole burger and we enjoyed it a lot. We definitely will try it again and this burger ranked 2nd place with a rating of 9.5/10.
Chick-fil-A's Deluxe Chicken Sandwich was our next sandwich. It is amazing, as their American yellow cheese is top-tier. This tops the whole sandwich, but it also has toppings such as tomatoes,  and lettuce. And of course, the Chick-fil-A sauce to go with it completes the whole sandwich and adds a big finale to it. The sandwich is very great and it's cooked very perfectly; we rate it a 10/10.
Chicken nuggets are a big part of the fast food game. Let's see who has the top game in the chicken nuggets category at these 5 different restaurants.
Although Arby's may not have had the best chicken nuggets in the fast food game, they have good service and locations across the area. The nuggets themselves were not that crispy and cooked all the way through, and had not so much taste along with bites. When compared to other fast food chains Arby's falls last. I would give Arby's an 2.5/10.
Towards the end of the list came Wendy's, their nuggets were not that bad, they had a good temperature and smell and texture, but the taste was just not there as much and did not appetize my taste buds.  I would give Wendy's a 5/10.
In the middle of the list comes Burger King, their nuggets were good but not perfect, and the taste was a lot better than the two lower-tier nuggets. The temperature tho was kind of cold when getting the nuggets but the texture and taste were definitely a lot better, so Burger King was off to a good start. I would give Burger King a 7/10.
Now the hardest part comes, the battle between McDonald's and Chick-fil-A to see who has the best nuggets in the fast food wars game. So, I would have to say that McDonald's falls short of Chick-fil-A, but this was super close.
McDonald's has really good nuggets; they're crunchy, the temperature is on point, the taste is really good, and it all adds up. But Chick-fil-A just has a little bit more flavor in them than McDonald's. I would give McDonald's a 9/10.
Now the best fast food chicken nuggets award goes to Chick-fil-A. Chick-fil-A had an amazing nugget to enjoy and savor. You can just tell when those nuggets are just sitting in the box and you are about to open them and take a bite that they are amazing. The texture, temperature, and taste were super on point and the customer service was amazing, even when just ordering the nuggets. So it's safe to say that Chick-fil-A takes it home with the win in the fast food wars nugget category.
On the topic of chicken nuggets, they come in many different sizes at these different restaurants. Some places have 6 counts, 8 counts, 10 counts, 15 counts, and even 20+ count chicken nugget meals. They all offer their own sauces to go along with this menu item. For example Chick-fil-A's Sauce, the sweet and sour sauce at McDonalds, and the BBQ sauce at Burger King. 
Out of all the fast food places we've tried, McDonald's was one of the best places for dessert. You can choose from up to five different ice cream options which are, hot fudge sundae, hot caramel sundae, vanilla cone, Oreo Mcflurry, and M&M Mcflurry. The texture and temperature were great. There was a fair amount of the chosen topping added, and the proportions were nice and big. Although they only had one ice cream flavor (vanilla), I thought they still made the most out of it with their five different menu options. Overall I give their ice cream a 8.5/10 with negative points for having their ice cream machine "broken" half of the time. 
We were a bit disappointed to find out that Chick-fil-A only had one ice cream option, the Icedream.  Their ice cream wasn't horrible, it was enjoyable, and the texture was nice, soft, cold, and easy to eat. It's your typical vanilla ice cream cone, so I would give their ice cream a 7/10 for its simplicity. 
Similar to the Icedream, Burger King had one option of vanilla ice cream, the soft serve cone. It was what you would expect for any other vanilla ice cream cone, although towards the end it started melting faster than the Icedream did. It made the cone soggy, reducing its score to a 6/10. They did have the option to have it in a cup rather than a cone though. 
Despite the fact that Arby's did not have ice cream, we did try their milkshakes. They had four options of chocolate, vanilla, mint chocolate, and jamocha shakes, with the addition of their seasonal shakes. These milkshakes are made out of real ice cream. The texture was great, it was thick but not clumpy, making it easy and smooth to drink. They add whipped cream and drizzle on top, which we thought was a nice touch. If we were talking about milkshakes I would give this a 9/10. Although based on the situation we are talking about ice cream, reducing its score to a 7.5/10.
Finally, we have Wendy's and their Frosty with the choice of a chocolate or vanilla frosty that comes in sizes of a jr. regular, and large. It was difficult to drink with a straw. Besides that, I thought it tasted pretty good. There weren't chunks, it had a thick texture, and it didn't melt as fast. I'd say Wendy's was another one of the best places, giving their Frosty 8/10 coming in close second tp McDonald's, the winner in this category.
Our winning ideal fast food meal? Get yourself the Arby's curly fries, the Chick-fil-A Deluxe Chicken Sandwich, some Chick-fil-A nuggets, and some ice cream from Mcdonald's.
Do you agree with our choices? Tell us in the comments!
View Comments (7)
About the Contributors

Ethan Hudson, Staff Journalist
Hi my name is Ethan Hudson and I am a freshman here at Osbourn.  I would like to write about sports and athletes in the world.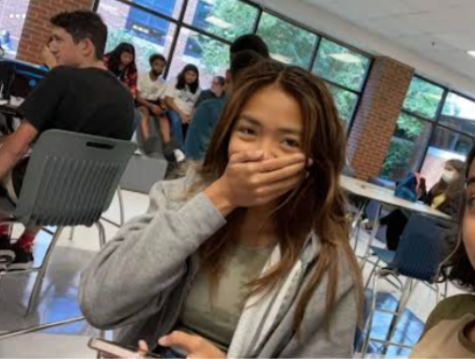 Kiara Camille Picardo, Staff Journalist
My name is Kiara, I'm a freshman at OHS. I'd like to write articles on sports and current events.