Cook-Out or Cook-In… Is This New Restaurant Worth A Visit?
In 1989, a new restaurant created by Morris Reeves called Cook Out opened in Greensboro North Carolina. The restaurant's menu has a wide variety of foods, like chicken, burgers, corn dogs, barbecue, and more. They are also known for their over 40 different milkshake flavors and the way that the food tastes homey, like it was made at a cookout. After opening 325 other locations in 10 states, they finally decided to add one in Manassas. We went to the one at 8502 Centreville Rd, Manassas Park, VA 20111.
Be prepared, the entrance to it was WEIRD. You have to enter through a series of turns through the neighborhood behind. Thankfully, though, exiting is much easier. 
The three of us went over the weekend, and we thought the inside of the restaurant was unique and modern. The ordering process was very efficient. Our order was out in less than 5 minutes! And the food was hot, so we knew the food was fresh and made on the spot. Because there are so many different parts to the meals, like 2 sides per entrée, we thought the ordering process would take longer. But to our surprise, each order was put in fast. The menu was huge but the layout of it was easy to read, and the colors were unique. Their tray offers make it easier to order, too. The staff was nice and patient while we figured out what to order. The food comes in a Styrofoam takeout box, and you'll have to ask for extra condiments if you want them. 
The inside of the restaurant was pretty big, larger than we expected. Most of the tables were really wide and round, and some were rectangular. There was a lot of space to put the food. Everything about the inside was sleek and modern, and it looked very clean. It smelled like chlorine and bleach; kind of like a pool. The outside was noticeable and unique as well. The floor was tiled and the lighting was comforting. The overall ambiance and layout made it feel special to eat there, even if the food is not considered a delicacy.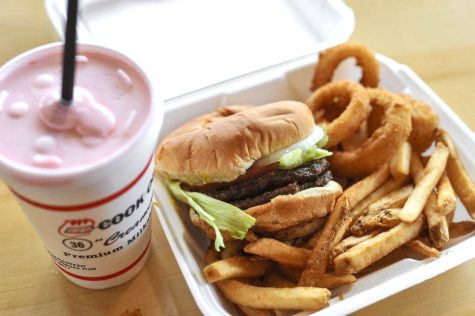 I (Aziza), chose to get a Junior Tray with a cheeseburger, fries, and hushpuppies. I also got a strawberry cheesecake milkshake. It was an absolutely toe-curling meal. My shake was creamy and smooth, and there was a LOT of it. I was drinking it for 2 hours until it was done. I didn't mind, though, because it was super refreshing. It was neither too thick nor too thin. The burger patty was small, but it was perfect because it's usually impossible for me to finish a burger. I got through this one in one go without feeling super bloated and full. However, they put a whole slice of onion on my burger. It was a lot, I can't lie. And I know it was on purpose because Alejandra's mom got the same thing. Maybe that's their style? It was unnecessary. And there was so much mayo and lettuce it felt like a slaw on some buns. After removing that, though, it was great. The fries were delectable. Scrumptious. Succulent. Flavorsome. They had the perfect texture and taste and didn't feel too dry or too soggy. They were the perfect medium, and they went really well to dip into my shake. The hushpuppies actually had so much flavor, which was a nice surprise because some hushpuppies tend to taste like oil. I thought it would feel random to have them with my meal, but everything ended up tasting great together.                      
I (Yessica), got chicken tenders, fries, and a sprite. The chicken tenders were actually not too bad. They tasted more like the breading of the chicken tender than the chicken. It tasted really good, but if you do get the chicken tenders I would recommend getting a sauce of your choice because the chicken is a little dry. The sauce I used for my tenders was ranch. The ranch was alright, it wasn't my favorite, but it wasn't the worst either. The French fries were my favorite part of the meal. Usually, the fries I get from other restaurants are soggy, but these fries were crispy on the outside and nice and soft on the inside. I've also tried their hush puppies and they were marvelous. I love hush puppies, and these were cooked to perfection. I didn't get any chunks of corn or anything in them, they were so crispy, soft, and smooth. 
I (Alejandra), got a BBQ grilled chicken sandwich, fries, onion rings, and a strawberry milkshake. The sandwich was good, but the chicken was a little dry, and there was an excessive amount of mayonnaise. It was lacking in the seasoning department. There was barely any barbeque sauce, so if I were to go back I would get an extra sauce packet. The onion rings were also a little dry. There was a lot of onion inside of them though, compared to how some restaurants have a sliver of onion in theirs. I feel like they should have had some sort of dipping sauce with it, though! It would have offset that dry feeling I got when eating them. Other than that the fries weren't too salty or soggy. The last food item I ordered was the strawberry milkshake, which was my favorite part of the meal. The taste was not like an ordinary strawberry milkshake, it was sweet but it didn't hurt my teeth. It was really smooth. The only thing I would change would be the sandwich. I would order something else. 
While the food was good, there was one thing we noticed that others on the internet noted as well. Around the restaurant, there are multiple quotes and imagery around Christianity and the Bible. On some of the bags, there is 'God Bless America' printed on, as well as Bible verses. The bottoms of the cups and bags reference proverbs, and they exclusively play Christian music. While it didn't bother us (we didn't even notice until after we had left), it may make some uncomfortable. At least they aren't shy about it!
Aside from that, the prices were great! Corn dogs, chicken sandwiches, and hamburgers are available for as little as 99 cents! You can get a platter of barbecued pork, coleslaw, fries, and hushpuppies for only $4. The Tray, which the company claims to be the "Best in Town!" is Cook Out's signature dish. It's challenging to contest that assertion. Customers can purchase The Tray for just $5 and receive one entrée, two sides, and a drink. It's a great deal, especially because they give so much food for a little price! 
Overall, we all thought the food was pretty good! Our favorite thing on the menu was the milkshakes. They were the perfect consistency, and the flavor was really good as well. Our least favorite thing on the menu was the chicken, it was just kind of dry and all you could really taste was the fried batter. We all loved the fries, they had a nice little crunch and the inside was nice and soft. They were the perfect standard for fries. Would we say it's worth the money.. yes and no. For the food; probably not, but the milkshakes get a definite yes. The food is like almost every other fast-food restaurant but it was still pretty good. Compared to Mcdonald's, which charges almost $2 more, the value was great. But compared to a restaurant like Chick-Fil-A or Shake Shack, we can't say it meets the mark. While it was okay, we don't think we'll be coming back unless we're nearby and starving. 
View Comments (25)
About the Contributors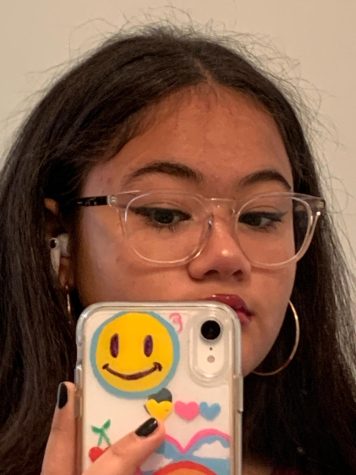 Aziza Zarrincalaki, Staff Journalist
My name is Aziza Zarrincalaki and I am in my freshman year. I enjoy makeup, scrapbooking, and playing the violin. This year I hope to cover topics about...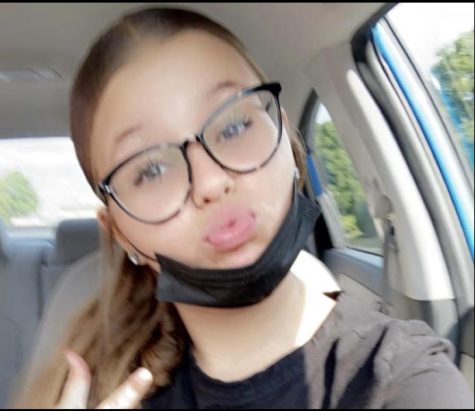 Yessica Corrales, Staff Journalist
Hi, I am Yessica Corrales. I am in the 9th grade. I play on the freshman volleyball team. I would like to write about sports and music.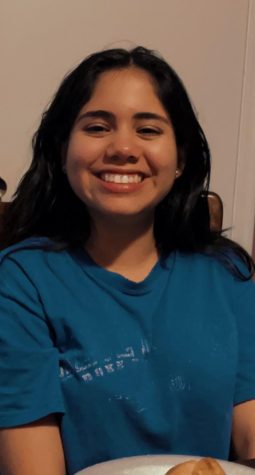 Alejandra Chavarria-Rea, Staff Journalist
Hi, I'm Alejandra and I'm a freshman at Osbourn. I would like to write articles about peoples opinions on recent topics. I am also interested in writing...