"Avatar: The Way Of Water" Sends Waves of Mixed Emotions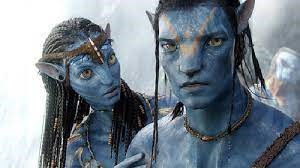 Avatar: The Way Of Water is a movie that had many people wanting to see it. A lot of people said it was amazing, and worth the wait. All the hype made me want to go see it, and even though I could barely finish the first movie, I just had to.
I went to Regal Manassas to see why this movie was so popular. I paid for 3-D so they gave me 3-D glasses, which made the experience fun. I brought my blanket, so I felt very comfortable. Even though I brought my snacks in, I also bought food there.
In the beginning, the audience meets the family that Jake and Ney'tiri started after all the chaos of the first Avatar. I saw the new world they had created without the "scientists" trying to change everything they know. As the movie progresses their kids also encounter problems with the "scientists."
In the first movie the scientists "lost" so I would've thought they would leave it alone. I see I was very wrong.
In my opinion, the beginning of the movie moved at a better pace than the first movie. I felt like when it started it was loud, bright, with lots of action, and the music was enticing. If it hadn't started like this, I would have skipped it. I feel like the movie is something that should be loud and enticing, not slow. So I'm glad they did so in the beginning.
After like 30 minutes of the movie, I wanted to fall asleep. I just felt like it was too calm in many parts. It's probably just me, but when I watch movies that started very loud, when it gets calm I get bored.
As the movie continued it got pretty funny, and that woke me up.
The movie was filled with jokes and funny expressions; it made me laugh a couple of times. One was when Spider brought up not knowing who his dad was and everybody awkwardly looked at him. Awkward situations are hilarious to me.
There were some dark sides to the movie though which was pretty interesting. Those times showed a lot of pain and a need for revenge. In my opinion, the story was very well written and people could tell what emotion the characters were feeling.
In the scene when Neytiri wanted revenge for something terrible that happened to her, you could see she was angry. Even Jake didn't know how to respond, he had never seen that side of her.
Towards the end when they started fighting, they got help from their earth and it made me so happy. The amount of happiness that was on Neytiri's face was amusing.
The end made me really happy because everyone came together to protect their home. It showed that everyone, including the animals, has passion. Another example would be when Jake bonded with his banshee. They created a bond, where they would have each other's back, which in my opinion was very funny and adorable at the same time.
Overall I liked the movie much better than the first movie. It could have been better in some parts, but I enjoyed it and I approve.
View Comments (11)