New Year, New Goals!
It's a brand new year and it's still only the first month of 2023, January. Many individuals have made new goals and are set on completing them by the end of this year. These 2023 goals can be little achievements but they can also be these big things that could change your view of things. Some examples as to what people commonly set their goals and mind to are things like changing to a healthier diet, spending more time outside with nature, or studying more to get their grades up. However, it can also be major things like skydiving, moving to a different state, or getting your dog a dog so he won't be as lonely when he has to be left home alone.
"My goal for this year is to try and be more out there. I do my homework and study but I want to do more than just that and go outside more and take some time to myself, perhaps go out with friends too and see what they are up to," Genesis Hernandez said.
"Yeah, I think my goal for this year is definitely going to be about me starting my workout plan because I've noticed that all of my friends work out and feel healthier and better and stuff and I want to be a part of that, and see where it all goes. I will have to stay consistent with it though, but I'm sure I can handle it," Joshua Synder said.
"Last year in 2022, I made this goal that I would start working out, but I ended up not doing that. But this year is for sure the year I'll start working out, I will even have my friend drag me to the gym if that's the case," Fatima Garcia said.
"Last year, a goal of mine that was a failure was that I told myself I'd try and take on a new hobby and stick with it, but things just got in the way or I just didn't feel motivated to find that hobby," Genesis Hernandez said.
"Yeah at the beginning of 2022 in January I did say I would get off my phone and go out with friends more. But when you make a group chat and try to make plans there is always that one friend who can't go out or something, so we rarely went out as much as I wanted, but I did keep myself busy with other things and looked into painting and crocheting/knitting. I thought it was fun. I guess it wasn't much of a fail, but in a way it turned out great still," Keiry Anderson said.
The possibility of the goals not ending the way you want them to by the end of the year does not mean you shouldn't give it a try. It should give you more reasons to follow up with it to prove to yourself that you can do it.
"Yeah for sure. If my goals for this year don't go as planned, that's okay but I won't know for sure until I give it a shot. You just need to keep yourself motivated and remind yourself why you started the goal. It's all worth it in the end but if it fails, you can always try again next year," Joshua Synder said.
As he said, don't give up, just keep yourself motivated and you will get there.
Resolutions for 2023 can play a big role in the world and can possibly change the world and lives. They also can create motivation, confidence, and support for others. This year is a big year for some at OHS.
"My #1 resolution is to slow down and take more time for my family. I feel like we are always in a rush to get somewhere or get something done(work, house chores and get someone to practice). You don't get time back. It's ok to miss a practice or leave the dishes dirty. Things will get done but family time is irreplaceable," said teacher Ms. Simpson.
"I'd say that I am doing my new year's resolution for myself because it's personal, but positively impacts society," said sophomore Ciara Kraft.  "I am doing my resolution for myself because it will help me out a lot in my life and get to what I want to achieve. Also doing it for myself will bring my confidence up and make me more motivated for my resolution," said freshman Carter Layden.
Looking back at 2022 can reflect on how some may look to succeed in the future. Creating better progress in general day-to-day activities, and having that confidence to do so. This progress can lead to others feeling that completing this and that can happen and lead to great success.
"I thought about things that I was not the best at last year or needed to be better at said this year, I'll be better or won't do that!," said teacher Ms. Rider.
"This year, I decided to make a more general resolution rather than a specific task. I want to take better care of myself. In a profession where so much of my focus is on taking care of the needs of others, I often don't make time to care properly for myself," said teacher Ms. Lindenfelser.
For some, making a wish seems more fun than making a resolution.
"I do believe that making a new year's wish is something special to me. Personally, when I make a wish that I am able to make come true, I like to call it a commitment to myself. It means that I'll be looking forward to accomplishing something this new year! I can make my wishes come true by maintaining a certain positive mindset, and looking forward to after I achieve my wishes," said freshman Celine Sakatan.
There are no limits to what you could wish for. When some hear to make a wish, they might take that information and wish for something extraordinary, exciting, and outgoing for others or their own future.
Freshman Ayaa Mohamed said "By the end of the year, I wish to win the lottery.  I really want to win the lottery so I can be wealthy and have nice belongings. I do believe making a wish for the upcoming year is special because if, when, and how your wish comes true, it could make your happiness increase and give you hope. I will try my best to make my wish come true by having a lot of hope and believing in myself. If it were to come true, I would move to an expensive state like California because there are great views to look at in the state."
There are wishes made by a few that affect their own future. These wishes may be easy or difficult to accomplish, but taking your time day by day is a helpful way to make your wish come true.
"I have a plan to study hard by the end of the year because I do not want to fail any of my freshman classes. I do believe making a wish is special because it could come with something special for anyone in the new year. I can make my wish come true by trying my hardest to stay focused in all my classes. I think my wish will change my life in the future because it will help me with getting into my dream colleges," said freshman Paola Almazan.
"My plan for the year is to keep up my good grades. By the end of the year, I want to travel to Atlanta, Georgia because my family and I really love to take a trip there during the year. I believe I will see new opportunities instead of my wish to change my life in the future," freshman Destyni Pane said.
A number of students use wishing to hope for something sooner in the near future.
"My wish I want to accomplish by the end of the year is to get a new dog. My wish is special to me, and the reason why is because it's my wish and I really want a pet or some animal that I can take care of. I do not believe my wish will be changing my future but I will if I can keep the dog alive for a long time," concluded freshman Jaiden Richards.
Most students agree that making a new year's wish or resolution can help get you motivated, and ready for the year ahead of you!
View Comments (10)
About the Contributors
Alondra Marquez, Staff Journalist
Hi I'm Alondra. I'm a sophomore at Osbourn high school, this is my first year taking journalism. I hope to write about things regarding news and what has...

Ethan Hudson, Staff Journalist
Hi my name is Ethan Hudson and I am a freshman here at Osbourn.  I would like to write about sports and athletes in the world.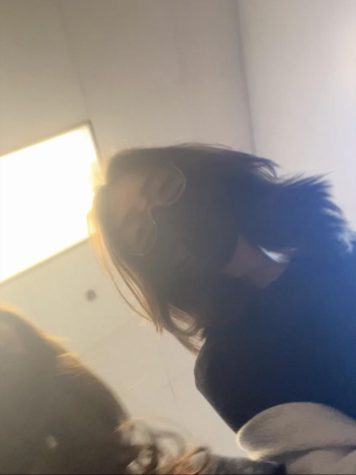 Maya Lucero, Staff Journalist
Hi, my name is Maya Lucero and I am a freshman here at Osbourn. I would like to cover topics for style, people's opinions on trends, and current events.