Crossroads Tabletop Tavern: A Fun Atmosphere And Yummy Lunch Menu
Crossroads Tabletop Tavern, a cozy restaurant in the midst of a board game renaissance. Four years ago John Hornberger, the founder and current owner of Crossroads set out to share his childhood passion for tabletop games. Growing up with frequent family game nights let Hornberger grow a collection of board games that he can now share with the world. Sat just shy of the Manassas railway station it's a perfect walking distance from Osbourn and its surroundings. Crossroads is a wonderful place for everyone as it offers affordable food and alternatives for those who are vegan, or vegetarian.
Walls and walls filled to the brim with all different types of board games,  a maze of different colored chairs, and modernized oil lamps suspended from the walls: it feels like we just walked on the set of a fantasy movie. A waiter comes and explains the whole concept of Crossroads in a simple and polite manner, making us feel welcomed. Once seated we learn about a fun concept that not only fits with the theme of Crossroads but also makes sense — calling the waiter. To call the waiter you must take a playing card and put it in a table number holder. This concept was so simple but made us feel like we truly entered and were about to eat somewhere special. 
Opening at noon, Crossroads begins its brunch menu. With the use of unique sauces, flavors, and a little special something, they make dishes that put a twist on traditional American cuisine. Not only do they have sauces like no other, but they also have authentic dish names such as Monster Mash Short Rib Hash, Triple NomNomNomelet, The Full Monte Cristo, and more. While visiting, we tried the Toast de' Brioche which consisted of two brioche buns cut in half with your choice of fruit compote, apple jam, or maple syrup. It was very fluffy and had powdered sugar sprinkled on top of it. We chose to eat it with raspberry compote. We thought the sauce could've been better, it made the flavors clash. The compote gave a little tingly feeling and had a strong mixture of sourness and sweetness. We thought it tasted better eating the Brioche without the sauce even though it kept the meal dry. 
 Although the raspberry compote felt out of place, it fits well. The Alien Egg Farm is a dish that consists of mini corn dog halves with a raspberry and maple syrup drizzle. In our opinion, it was mediocre at its best. In total it included twelve half corndogs, which we thought was not enough for eight dollars. Our hunger was not satisfied, leaving our stomachs in a state of loneliness. 
Starting at 2 in the afternoon, Crossroads begins to offer its lunch menu; this late starting time feels unnecessarily delayed. We came in at half past twelve with the intention of being served lunch. 
Carrying on with its day, Crossroads continues to use its unique sauces and creative names, such as Flashpoint Chili, Crypto-Casserole, Tiki Toast Hawaiian Patty Melt, Lord Of The Fries, and much more. At Crossroads, we had the Chicky Boom Bites, which is a dish that includes deep-fried chicken bites tossed in your choice of house-made sauces. We chose to eat it with the sauce Dr. Sriracha. We thought the meal had good proportions, and it was nicely crispy on the outside. We enjoyed this meal. 
Although Crossroads has many meals with special sauces, they also have options without them. For example their Mac N' Cheese. In our opinion, it barely had any cheese, and it lacked stringiness. Additionally, we thought the texture was kind of weird, as it felt clumpy. Besides that, we felt as if the amount served was good. 
To add to the many different entrees, there is a vast selection of beverages for all ages. Some non-alcoholic options would include their many different teas, coffees, sodas, and mocktails. While there, we tried iced tea and locally filtered water, both of which included complimentary plastic straws. The iced tea was refreshing and perfectly chilled with freshly made ice. Despite this, we would not recommend iced tea to those who would like to avoid sugar or just can't handle overly sweet drinks.
Overall, Crossroads Tabletop Tavern gets 3.5/5 stars. The brunch was lackluster but we really enjoyed the atmosphere and lunch options. We only hope that in the future Crossroads starts its lunch earlier.
View Comments (6)
About the Contributor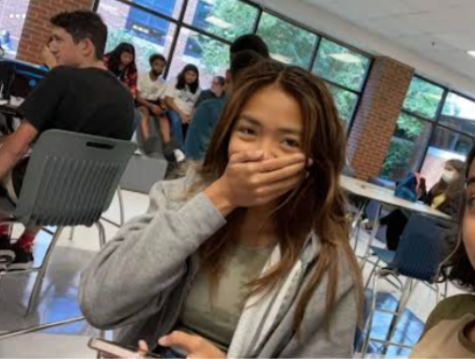 Kiara Camille Picardo, Staff Journalist
My name is Kiara, I'm a freshman at OHS. I'd like to write articles on sports and current events.