"It Starts With Us" and "It Ends With Us" Will End That Reading Slump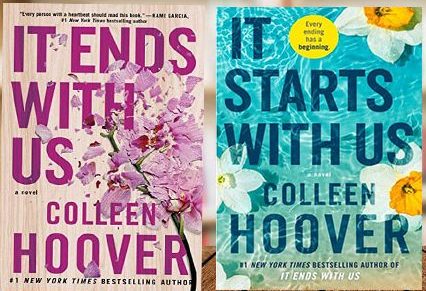 Reading books is more than just flipping through pages. When you find just the right author and just the right genre and writing style, you find yourself getting lost in books. You forget you are actually reading and get consumed by the book. To me, that is what it means to read. That is the exact feeling I got when I read Collen Hoover's new novel It Starts With Us. It Starts With Us came out on October 18, 2022, six years after the first book in the series, It Ends With Us was released. The author of the two books, Collen Hoover, got popular in January 2022 after her book went viral on Tiktok during the #BookTok trend.
The first book in the series, It Ends With Us, follows Lily Bloom who meets Ryle Kincaid on a rooftop and begins to develop feelings for him. Lily opens a flower shop and meets her new best friend Allyssa. Later we find out that Allyssa is Ryle's sister. As Ryle becomes closer to Lily they move in together, but later we find out why this was a big mistake.
In the book we find that Lily has these letters that were written by her younger high school self, talking about a homeless boy named Atlas. In these letters, they talk about how Lily helped him out after she found out that he lived in the abandoned house and got kicked out by his mother. Atlas also helped Lily feel better after a situation where her father would abuse her mother. Atlas and Lily fall in love, but Atlas moves away and goes to military school where she never sees him again.
Back to the present time after Ryle and Lily move in together, Lily notices herself falling into the same cycle her mother fell into after Ryle backhands her, leaving her with a mark and bleeding for laughing at him. Lily lets it go, but then it happens again. Ryle gets mad and pushes her down a flight of stairs. Lily finds herself lost and in a bad place.
One day Lily and Ryle and her mother go to a restaurant, and it turns out this restaurant belongs to none other than Atlas Corrigan. Lily sees him and gets nervous, she excuses herself to use the rest room and there he is. Atlas sees the mark on her head and gets mad, he insists on finding out where she got it from. Ryle then appears and Atlas puts two and two together and ends up punching Ryle. This causes a fight to break out but before Lily leaves, Atlas gives her his number in case anything else were to happen.
One day Ryle stumbles upon Lily's old diaries where she talks about Atlas. When Lily gets home, he sees her shoulder where she has a tattoo in memory of Atlas. After he read the diaries, Ryle almost assaults Lily but gets ahold of himself, but still bites her in the spot where she got the tattoo and leaves her with several injuries.
Lily wants to break out of this cycle of abuse, first her mother and now her. So later that night when Ryle fell asleep Lily, calls Atlas telling him her situation and that she needs him.
Atlas shows up and gets her to the hospital where she finds out that she is pregnant. Lily is in shock; she feels lost when she finds this out, but she has Atlas by her side. Lily thinks about her mother and father and thinks about how she grew up in an abusive household and how it was. She didn't want this for her baby.
She tells Ryle about the child and he shows up at the birth where she breaks up with him as soon as she gives birth to her new daughter. Lily wants to break this cycle of abuse and she wants it to end with her.
This book left me craving another part. I loved it a lot. I just feel like it could have used a bit more Atlas and Lily scenes and there were a lot of letters. But overall I loved it.
It Starts With Us is the second book in the series and it starts off with Atlas, whose restaurant got vandalized, and Lily, who is starting her new journey as a single mother.
At the end of the first book Atlas and Lily bumped into each other and Lily promised to call him. Later that day after a lot of overthinking Lily calls him, and by the end, he has a date with her.
Atlas gets a call from his mother who has not talked to him in many years since she kicked him out, but he hangs up as soon as he finds out it was from her.
Later that day they go on their date and Lily is a bit hesitant to let things continue between them. She likes him a lot, but she doesn't want her ex-husband Ryle to find out, especially because she has a child now. She's very new to parenting and doesn't know what is best for her or her daughter.
At the end of their date, everything goes well, until Atlas gets a call from his coworker telling him his mother is at the restaurant. His whole mood changes, but he puts on a smile for Lily. They end their date and it went pretty well. He promises to call her again, having a second date in mind.
When Atlas goes to the restaurant, he sees his mother and she tells him something unexpected that may change his life forever.
Do Lily and Atlas work out? What did Atlas's mother tell him? You should read this book to find out!
I would give this book a solid 4.5/5. I was hooked on this book. I pulled an all-nighter to finish it because it was just so alluring. The beginning was a little slow, but I wouldn't call this book a slow burn because everything went on at the right time. Atlas and Lily are everything. Their friendship and love for each other made me so happy and I am so glad I started this year off with this book because it left me wanting to read more. This book filled me with so much joy because, unlike the first book, this one mainly focused on Atlas and Lily's relationship.
View Comments (17)
About the Contributor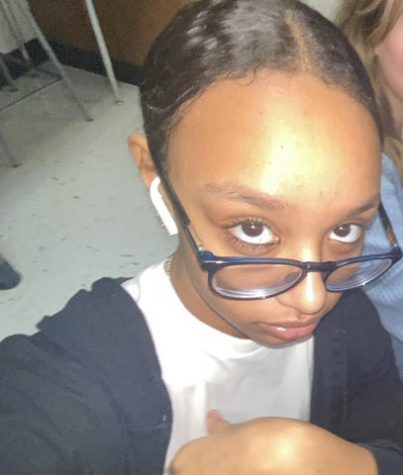 Ayaa Mohamed, Staff Journalist
My name is Ayaa Mohamed. I'm a freshman and I would like to write about anything.