Erick's Top 5 Restaurant Picks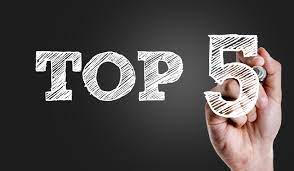 There are many restaurants to choose from, but sometimes it's not easy to decide what you want to eat. Sometimes, you have to be in the mood to go somewhere. Sometimes you even don't know what you want to order, so you just decide to get something random that you may or may not fully enjoy. If you want any recommendations, I'm gladly here to give you my top 5 recommendations for where to eat and what to order.
My first top pick is called Molcajete Moya. It is a Mexican restaurant with amazing dishes to try. My personal favorite would either have to be "los taco de birria" or the "torta cubana." And the drink I always order is a large cup of horchata to drink after I finish my food.  It is located over at Mathis Ave, in the Manassas Shopping Center.
The second restaurant I will suggest is called Hot Chickn Kitchn. The restaurant is located at Potomac Mills Road in Woodbridge. They generally serve chicken. There's crispy, tender, fried, and you are able to choose how spicy you want your chicken. They don't serve breakfast, but it is all good in general. If you want something to fill you up, I recommend the Country Chickn Salad which is also a healthier option.
My third top pick is Chipotle. It is a more casual restaurant where they make the food in front of you. You can choose from a burrito, a bowl, and tacos. Normally, I order a bowl and my favorite thing to order with it is the chips and guacamole. For beverages, they have bottled cokes, bottled juice, fountain drinks, and organic juice. Normally I usually get myself the Organic Berry Agua Fresca as my drink. Getting Chipotle is definitely something to do when meeting up with friends and family. It is located in Manassas, on Liberia Ave if you ever want to go and get the experience.
My fourth pick is Olive Garden. I like to order from the entree menu, and what I order is the Chicken Tortellini Alfredo. The cheeses on top are flavorful. I would personally recommend this meal with a mango-strawberry iced tea. It is located at Broken Branch Lane if you ever want to go explore what it's like to eat over there.
And my final restaurant suggestion is Ihop. It is a dine-in restaurant with a lunch/dinner and breakfast menu. My favorite thing to probably order from the breakfast menu is the chicken and waffles. I really enjoy the chicken strips, and you can choose from different types of syrups. And for my lunch menu choice, it's going to have to be the buffalo chicken melt with a side of fries. It is definitely a place to sit and eat comfortably, especially if you are sitting in the booths. The one I go to is located over on Centreville Road.
These are my five recommendations. Feel free to check out all of these places if you ever have trouble deciding where you want to go and what you want to order.
Tell us your favorite places to eat in the comments! What items do you recommend?
View Comments (11)