The Too-Faced Too Femme Palette: Subtle but Cute!
Too Faced was founded in 1998. They invented the world's first glitter eyeshadow and lip plumper. According to an Allure article from 2016, the creator of Too Faced got the name ¨because customers would turn from super nice to angry when they found out he was out of their favorite lipstick creation.¨ Personally, I know Too Faced best because of their lip plumpers. When it comes to their most popular product you will sometimes hear about their Lip Injection Lip Plumper. When researching about the brand, I did get some statements that said they are best known for their Born This Way Flawless Coverage Natural Finish Foundation.
The Too Faced Femme palette came out about a year ago (in 2022), but it was gifted to me as a Christmas gift, so I had no choice but to review it! You can find this product to be in the range of $25 to $35. This palette offers many different opportunities for different makeup looks.
Although the colors are not that pigmented, you can still get a nice spring look from them. When I first received this palette I was so excited to open it. The packaging is very appealing to the eye; it is a light blue color with butterflies on it. This palette smells so good, there is kind of a floral scent to it, which I loved!  When I swatched the colors, they were beautiful, especially the glitters. The combination of matte colors and glittery colors made the palette fun to use.
This palette brought me vibes of spring, but when I was looking for colors to use for the look, I was having a hard time with getting the bright colors to show up on my skin. Although I was excited about using the bright colors, I was actually kind of disappointed. As you can see in the picture, I was only able to use more of the champagne colors which I didn't mind, but I would have just been more satisfied if all the colors would have shown up on my skin tone.
For the lighter colors to show up, I had to use concealer and really build up the color, which can sometimes be time-consuming. The only thing that really made me like this palette was definitely the glittery shades. I feel as though this palette was more of a shimmer palette, which made me feel like they should've just made this palette like a highlighter one instead of it being eyeshadows.
Overall, if you're thinking about getting this palette, you should definitely think about other options that may be better. I would definitely look for a palette that comes with a way better choice of pigmented colors instead of this one.
The Too Femme palette is really appealing to the eye! I would make some changes though. If I were to go to the store and look for a palette like this, I wouldn't choose this one. There are many more palettes that come with way more shades and way more pigment. I wouldn't really pay all that money for this palette for the quality of the shadows. If I were to pick this palette myself I would definitely get it just for the glitters.
View Comments (11)
About the Contributor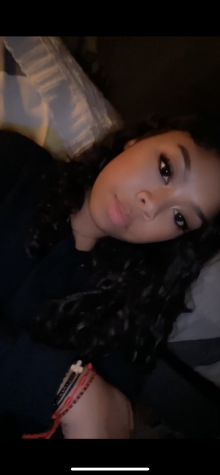 Mikaya Trammell, Staff Journalist
I'm Mikaya! I am a sophomore. This year I hope to write about how the students feel about what goes on around the school.