Is Wingstop A Top-Notch Choice?
As soon as I walked into the Wingstop (I visited one in Woodbridge), I smelled a wonderful aroma. We went up to the register to order and the first thing I noticed was their seating arrangement. The only option they had was inside dining, which is good because it wasn't too hot or too cold inside the restaurant. Since it is a wing place I think it's nice that it is inside. There weren't any booths, which is something I didn't like because I'd rather sit in a booth just for my comfort.  
I had already looked up the menu before going to the restaurant, I chose to get the flavors Original Hot and Garlic Parmesan for my wings. I've heard a lot of people speak very highly of Wingstop so I was expecting a lot from them! I went with my mom and she ordered the flavor Hawaiian. The Original Hot was a little too overpowering for me. It just tasted more sour than spicy. The Garlic Parmesan was incredibly delicious, I love garlic and they put just the right amount of garlic on the wings! My mom got the Hawaiian flavor, and she said she really liked them. I tasted it, and this sauce had a really sweet taste, it reminded me of sweet chili. 
Wingstop is famous for all of the flavors of sauces they have. According to Wingstop, their 11 signature flavors are Hawaiian, Garlic Parmesan, Lemon Pepper, Hickory Smoked BBQ, Mild, Louisiana Rub, Spicy Korean Q, Original Hot, Cajun, Mango Habanero, and Atomic. I love that they have a lot of different flavors because a lot of places just have a couple and not everyone likes the same sauce. 
Wingstop has a satisfactory menu; it isn't just wings. They have bone-in wings, boneless wings, chicken sandwiches, chicken tenders, a variety of different kinds of flavored fries, cajun fried corn, and as well as veggie sticks. I did try the normal seasoned fries and the cajun fried corn. The fries were amazing, they were the best fries I've ever had. The cajun corn was seasoned really well. Maybe even a little over-seasoned. It was still really good, but I'd probably order it again if they didn't season it as much. They also have their own dips, all made homemade. They have homemade ranch, bleu cheese, and honey mustard. I've only tried the ranch, but it's to die for! It's very flavorful, but the consistency is very liquidy, so it does tend to get a little messy at times.
The service at Wingstop was decent, although it did take a little while for the food to actually come out. But I was understanding because there were at least two people in front of me. While we were waiting for our food, two of the workers were making TikToks. I'm always on TikTok, so I thought it was pretty funny. The lady at the register was really nice, and she made sure we got everything we needed. She even recommended some of the flavors we should try next time we go back.
The pricing for Wingstop is kind of expensive, but it really depends on what kind of food you get. On Mondays and Tuesdays, each boneless wing is $0.70. The chicken sandwich, which is fairly new, is $5.49, a 4-piece chicken tender is $5.99, and a 10-piece bone-in wing is $6.00. The dipping sauces do cost money. A regular size cost $0.69, and a large costs $3.19. 
Overall I'd rate Wingstop an 8/10. There are a couple of things they could improve on, but other than that everything was fairly well prepared and tasty. The service was good, as well as the seating. I definitely recommend Wingstop to anyone who loves wings or just chicken in general!
View Comments (11)
About the Contributor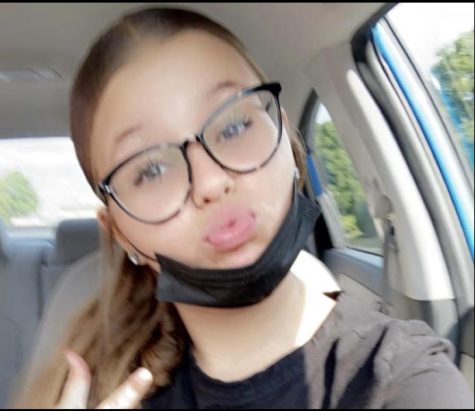 Yessica Corrales, Staff Journalist
Hi, I am Yessica Corrales. I am in the 9th grade. I play on the freshman volleyball team. I would like to write about sports and music.