Nostalgic TV Shows Bring Back The Memories
The new year is here and we are all getting older, and a lot of people like to look back into the past and experience some things that they did as kids. Things like tv shows, music, toys, and what each season looked like when we were little. Summers with baby plastic pools in your front yard. Winters where you would drink hot chocolate every day, and go sledding till it got dark. The feeling of nostalgia is a great feeling. What does nostalgia feel and look like to students at OHS?
Tv shows are a big part of our lives for entertainment, especially for kids. There are many different channels for kids only, adult swim, and teen shows as well. A lot of people can't pick their favorite shows because they're too many great ones to choose from. "My favorite tv shows were Pucca, My Little Pony, Dora, and Yo Gabba Gabba," said freshman Paola Almazan.
Most people watched the same shows as a child. "Some of my favorite shows were Yo Gabba Gabba and Max and Ruby," said Aaliyah Walden. And whenever talking with your group of friends and you all start talking about what shows you watched as a kid, we all pretty much grew up with the same characters. 
All of our favorite characters influenced us as kids. Like Dora, she helped us see the world and made us very curious about it. She wanted us to go on adventures with her, it's a very great concept. But as teenagers, due to having a  lot of stress, homework, after-school activities, and sports, we haven't got to connect with characters as much as we did as kids. How did our favorite characters and tv shows affect how we are now? "It made my childhood, and if I didn't watch tv I would probably have only one arm," says Almazan.
The shows we watched taught us so many things about life and how to have fun with life as well. 
Another kind of effect tv shows had on us when we were kids is if we watched cartoons or live acting. Shows like Amazing World of Gumball, Sponge Bob, and Teen Titans Go are all pretty popular cartoon shows that most of us watched as a kid. Shows like K.C. Undercover, Victorious, and Stuck in the Middle, are all live acting that most kids enjoyed as well. But which did most people like better, cartoons or live acting?
"I like cartoons better because the characters can be more interesting," says Walden. In cartoons, they have more freedom to do whatever they want because you know, they aren't real, which can be more entertaining. 
"I mainly watched cartoons; it was cooler because they could do anything that you couldn't do in real life," says Almazan. "We can't fit into super tiny places, and we can't have an anvil be dropped on our head and not get extremely hurt. But cartoons can." 
Overall, as children, we made some great memories with the characters that we watched on TV. "I miss answering the questions characters asked and singing along with the songs", added Almazan. Those characters and the shows made some lovely memories for us all!
View Comments (10)
About the Contributor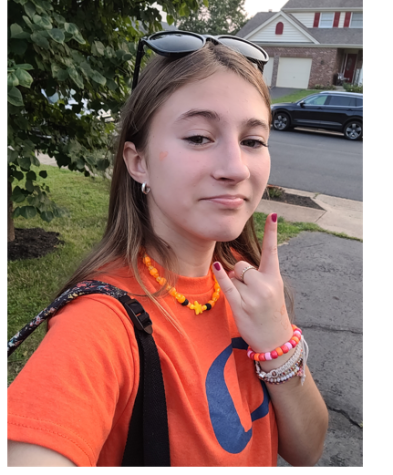 Rose McCusker, Staff Journalist
Hi my name is Rose McCusker and I'm a 9th grader at OHS. The topics I want to write about are sports, style, and much more. I hope to become a better writer...