Seniors Navigate The Process of Selecting Just The Right College
Senior year is a time of many emotions being felt and decisions needing to be made. College is at the center of attention for many individuals. That may include conducting research on schools, touring campuses, or figuring out the right major. The college process is requiring seniors to use both their time and effort.
Picking colleges can be tricky and the physical campus, for some, is a big factor in deciding on attending a school or not. Some shared they value the certain architecture of a college, the layout of the dorm rooms, or simply having areas where students can spend time on their studies.
"It needs to have some sense of community, not a college that is surrounded by parking lots, I would not prefer that," explained senior Patrick Epifanio. "I would like to see some community spaces where you can hang out or to study in, things like that," he added.
"The buildings for me play a part, like the structure of them and how they look. Mainly because I always wanted to study abroad in London, but you know traveling is quite expensive, so finding a college that looks like an elegant London structure is what I am ideally attracted to in a school physically speaking," said senior Princess Lowery.
With many influences in a student's lifetime another hurdle for seniors to tackle could be what major they want to study. College majors are very important for an individual's future in what they want to pursue, not to mention how it can also be an added factor to what school they might attend.
"The majors I am interested in are computer science and cybersecurity majors because that field is what my mom works in and they make a well-paid salary," explained senior Blake Cottrill. "Virginia Tech, George Mason, and James Madison are all college candidates for me because of their computer science programs that I am looking into," he added.
"I am looking into psychology because so many suffer from mental health issues, so I would like to help other people out," said senior Kali Tate.
The college selection process comes with many challenges. For some, college planning has been an ongoing process throughout their high school experience, while for others it is something they are going into head first senior year. Despite an individual's situation, obstacles popping up along the way are an inevitable reality in the college journey.
"For me, it was my SAT scores. Colleges look for those, and that has been a struggle. Also, my GPA; in the process, I realized it is such a big factor in getting into schools. Cost is another [challenge] as well, because if you don't have enough money or scholarships then there is no point in going to an expensive college," said senior Diego Hernandez.
"The most challenging part for me would probably be trying to think of things to write essays about. Because sometimes the college will give you prompts that can be vague like 'pick an event in your life' and for me, it's hard to recite interesting things that have occurred in my life.  I haven't really been through any major world events except the pandemic, which everyone is writing about. So it's hard to find ideas that stick out," explained senior Natalie Shelton. "Also finding scholarships and stuff is challengng because there is not really a clear scholarship process. I feel like they just tell us to find scholarships and I don't even know where to search," added Shelton.
Even with all the stress of the process itself, students are able to push through and make it to the other side because, as we know, OHS holds many dedicated, smart, and resilient students. Some already have very strong plans set in place for themselves in college and beyond.
"I want to major in computer science and minor in finance because I want to start my own IT consulting company, so that's a good idea to start looking at doing," explained Diego Hernandez. "What inspires me to start an IT consulting company is obviously it will make some good money, but overall not a lot of people think to make one especially for government contracts. I think it's also just because technology is growing nowadays so that's going to be the new future and is a big part of what makes me want to start that idea," added Hernandez.
"And for a college, I am looking at Mount St. Mary's [he explains while wearing the university's sweatshirt]. Others I am also interested in are James Madison, George Mason, and Old Dominion University. There are also some others but those are the main ones," he concluded.
Overall the process of applying to colleges unfolds many opportunities for students to self-reflect on their high school journeys and help them identify weak spots in need of strengthening for their future. If you're a senior or a rising 11th, 10th, or even 9th grader here is a word of advice to you from our very own college and career counselor that can equip you with knowledge to help you set your best foot forward toward your college preparation journey.
"Make sure the college offers your major. Make sure you understand the specific details about the campus and its surroundings. Another misconception is that the GPA is enough. Colleges want to see a full schedule. They want to see electives that relate to your major. They want to see participation in school and community activities. Volunteerism and leadership also play a factor in the process. Remember, you are being compared to the other students who are applying to that school, not just the students at OHS. Take advantage of every opportunity," affirmed Ms. Violett.
Helpful college links:
Virtual college fair (Registration deadline: Feb.3)
National decision day celebration registration
View Comments (16)
About the Contributor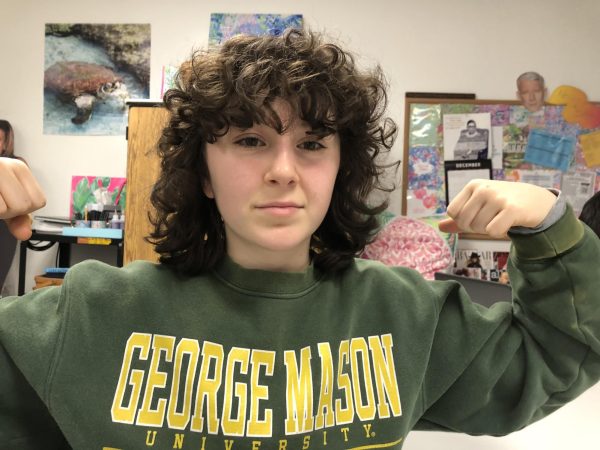 Amelia Breeden, Staff Journalist and Editor
My name is Amelia, this is my second year in Journalism. Journalism gives me the freedom to write about what I am passionate about, and that is what I...