Now Hiring! Working Students Offer Advice On Finding A Fabulous Part-Time Job
It's not a surprise that many OHS students, specifically seniors and juniors, choose to have part-time jobs. It not only gives them experience in having a job and building a resume, but it also gives them vital social skills that they may use in the future. From retail, to the food industry, and even freelance jobs. Whether it's to support their families or to gain some extra cash- these students choose their jobs for many reasons. When thinking about getting a job, it's important to get all the experience and advice you can, and OHS seniors are here to help.
These tips include:
"Tell them your exact schedule about when and what time you can work," said senior Ghazal Habib.

"Get a job somewhere you enjoy going to," said senior Kali Tate.

"Know that it gets easier over time," said senior Edan Tabug.

"Learn to balance your school and work schedules so you don't fall behind," said senior Annie Facemire.
Senior Ghazal Habib recommended telling employers your exact schedule about when and what time you can work.
"You shouldn't lie about your schedule, it doesn't matter if you impress the interviewer, and even get the job or not because it's just going to hurt you in the long run. What's important is that the place you're working understands that you're a high school student who needs time for school and academics as well," mentioned Habib.
"When I first applied for the job, I mentioned how I was a student and could only work Fridays and weekends. They were OK with that, and most of the time If I have a week or so off of school they even let me come in on weekdays," she continued.
During an interview, many employers ask about the days and hours when the potential employee (you!) can work. This can help them understand how flexible your schedule is when it comes to coming in for extra days, working longer or fewer hours than usual, etc. Lying may cause potential miscommunications. They may ask you to come in on days when you can't and even hours when you're at school. Even if there is not a question about scheduling in an interview, it is best not to lie at all to prevent any issues in the future.
Choosing to work somewhere you've been to before or go to frequently can also help motivate you to go to work every day.
"I currently work at Plato's Closet at the moment, and I enjoy what I do because, regardless, I always go there and look at the clothes and shop," said senior, Kali Tate.
"Retail jobs are pretty predictable and I usually have either rack duty, where we put out everything that we collected from the inbox, sort them out, then we arrange them based on size and color on the racks. Other than that, I tag clothes, or clean up at the end of the day when we're closing," added Kali.
Retail jobs are one of the most popular choices for high schoolers and teens looking to get their first jobs. Their tasks are easy and manageable, with valuable lessons provided along the way. These experiences and important lessons tend to make it easier for teens to get future jobs in different categories. Having a job provides an opportunity to get helpful insight.
"Once I got a job, I learned how to arrange my schedule a lot better, because I'd always have to arrange my work hours around my schoolwork. I feel like it's definitely a lesson that will help me in the future either in university or in other future jobs," said senior Annie Facemire, who works at American Eagle.
"For me, it depends on what kind of work you'll take, but it really does get overwhelming at first. But it's important to know that eventually it gets easier- just think of it like going to school," senior Edan Tabug mentioned.
Though having a job can sound challenging, it's important to know that not all experiences are hard and stressful. Having a job can bring enjoyable experiences and personal growth, doing what you love.
"I liked my job because I enjoy spending time with kids and I like art, " said Tabug, who got hired to teach his neighbors' kids to draw.
"My job gave me amazing coworkers whom I can trust and hang out with," said Habib, who works at Panda Cafe.
"My job gave me a chance to earn money while working part-time at one of my favorite places to shop," said Tate, who works at Plato's Closet.
"My job gave me discounts for in-store credit, but it also gave me new experiences," said Facemire, who works at American Eagle.
If you are looking for new, part-time or beginner-level jobs, the OHS counseling newsletter provided by Ms. Violett and the counseling team frequently adds links and job notices on positions available near us. This email/newsletter is sent out every week in order to help and make job applications more accessible to OHS students. For more insight, please look at the OSBOURN COUNSELING NEWSLETTER in your school email inbox!
View Comments (11)
About the Contributor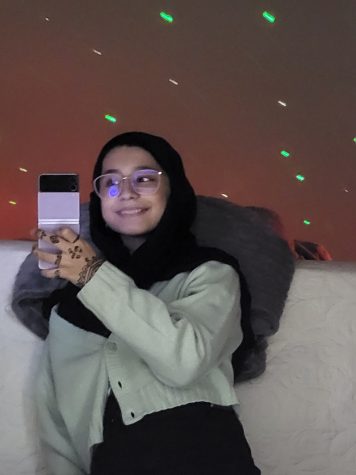 Madina Habib, Staff Journalist
Hi, I'm Madina Habib an OHS freshman (9th grade). I hope that in the future I hope to write articles on OHS students and their interests, and important...