Hot Buttered $oul Is The Vibe Of Freddie Gibbs' Newest Album
Freddie Gibbs is a rapper known for keeping his soul in almost every album he has made. Ever since he exploded into the mainstream with his 2014 album, Piñata, he's been keeping it G. Piñata also showed his way around beats produced by some of the best beatmakers in the industry, as this album was produced by well-known producer Madlib. Madlib had previously worked with one of the best MCs in the game, MF DOOM.  Madlib and Freddie Gibbs would later work on the 2019 album Bandana, their best work in my opinion. The album carries soulful instrumentals alongside the stories of a man living in the impoverished steel city of Gary, Indiana. A year later, in 2020, he would work with another well-known producer, The Alchemist, with Alfredo. The Alchemist had worked with such rappers as Prodigy of Mobb Deep, Earl Sweatshirt, Kendrick Lamar, and Nas. It carried the same energy as his other work, thug tales with a nice dash of soulful instrumentals.
These two producers, along with several others,  would orchestrate the behind-the-scenes work of Freddie's newest album, $oul $old $eperately, released on September 30th, 2022. A "bonus edition" would be released nearly a month later, on October 23rd, with 4 additional tracks released previously. 
The "Big Rabbit", as he refers to himself,  gets straight to the point in the first track, Couldn't Be Done. When I listened to this track, it immediately gave me College Dropout vibes. Kanye West is known for his chipmunk soul, and this track uses that signature sound. The second track, Blackest In The Room, shifts the scenery to a warmly lit hotel room elevator, its smooth jazzy instrumental is a distinct Alchemist production. If I hadn't known, I would've thought this track was from his previous album, Alfredo. The beat shifts and a welcoming groove introduces itself. Tracks Pain & Strife, featuring Offset of Migos, and Zipper Bags both show off Freddie's singing voice, I personally find it a nice switch of pace from the standard rapping he's been doing.
Lobster Omelette is a very introspective piece, as he raps, "In my neighborhood, you was either five or six, you had to choose and folks and them was stealin' my Starter jacket and my shoes." Featured artist Rick Ross does his job in this, finishing this track beautifully. The track after this, Space Rabbit, carries this same introspective tone. One of my favorite tracks from this album follows suit, Feel No Pain, with its simple bass chords. Featured artists Raekwon, notorious for his work as a member of the Wu-Tang Clan, and Anderson .Paak must've had back pain with how they carried this track, with all respect to Freddie's verse. .Paak's almost chant-like singing on the hook really does it for me. Another good track comes in PYS, produced by DJ Paul. DJ Paul had worked as member of the influential rap group Three 6 Mafia, and this track samples their track Pimpin & Robbin. This track is definitely one for the aux.
Those are just some of the tracks from this well-done album, with its various skits in between these tracks relating to the "$$$ Casino and Resort".  The casino theme is in lieu of the trials and tribulations he had to face to get to where he is now, taking gambles in his career. Luckily, with every shot at the slot machine, he's gotten jackpots.
View Comments (3)
About the Contributor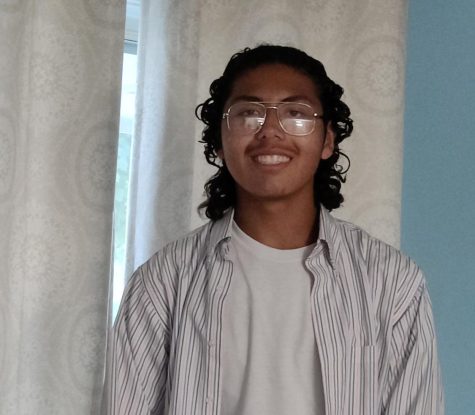 Jonah Morales-Espinoza, Staff Journalist
Aloha, I'm Jonah and I'm a sophomore. I hope to write about things happening around this school. Sports and music would also be cool.