Is Midnights Really Mid?
Rolling Stone and Fans Beg to Differ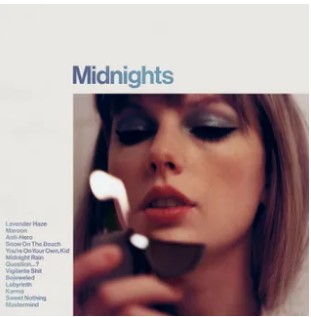 Taylor Swift. What comes to many people's minds when you mention her name is a sweet, innocent country girl who plucks her little guitar and waves to audiences. Someone who dates many men but can't hold a long-lasting relationship. Someone who many may feel is overhyped as they hear her same ten smash singles over and over again on the radio every day. What many people don't know is why her fans love her so much, and you can take that sentence either way.
Yes, she has one of the most massive fan bases in the entire music industry. More importantly, many of her most emotional, best-sounding, scream-your-lungs-out-in-the-car songs aren't those ten smash singles. They exist on the albums. Only people who buy the albums or shuffle a Taylor playlist on Spotify will ever get the pleasure of knowing some of these songs. Taylor Swift is an albums artist, and that is why her fanbase is so hardcore. It's not just something on the surface. It's not just people trying to find a good-looking celebrity to idolize. I feel like I know Taylor Swift, and I have never even met her. That's how much she cares about making good quality music, and not just achieving success. 
However, Taylor Swift is not one to put zero focus on fame. She holds more records and success than anyone else in the music industry who is alive and active today. She has nine number-one singles on the Billboard Hot 100 and forty top ten hits, which happens to be the most out of any female artist in history, even more than Madonna. She has one hundred and eighty-eight charting songs on the Billboard Hot 100, also more than any other female artist, and only less than Drake. Recently, Taylor just became the first artist ever to hold the entire top ten on the Billboard Hot 100 at the same time. 
So, Taylor is no stranger to success. Many people assume that because something is successful, it is overrated or uncool. Many people only listen to alternative or more undercover artists because they want to look cool or quirky, which shows that the person doesn't care about music quality, but only about how other people perceive them based on their music taste. Why has it become a popular thing to hate on popular music?
Maybe it's because everyone knows who the artist is, or thinks that the artist is shoved too much in their face all of the time, even if they don't listen to that artist's music. It all comes down to the fact that people need to stop judging whether a song is good or not based on its popularity. Is all popular music good? No. Is all popular music bad? Certainly not. People need to listen to songs and make respectful opinions based on their own judgments, not others' opinions. It is good to know what is popular, however, so you can see if your favorite musical artists are well-known and a good topic for discussion. 
So, to the actual album itself. While it may not be my favorite Taylor Swift album of all time, it is definitely not "mid," as some haters and a few isolated negative critics have been proclaiming. The album scored an average of 85 out of 100 on Metacritic, which is more than impressive given the critic's tendencies to point out the smallest of mistakes or things that could have been done slightly better. Rolling Stone gave the album a score of 100, with some other famous music publications giving perfect scores as well.
The album has been proclaimed as sonically and thematically cohesive, with songs like "Lavender Haze," "Karma," and the album's lead single "Anti-Hero" receiving special recognition by fans and critics alike. Songs such as "Maroon," "You're On Your Own, Kid," and "Midnight Rain" have already become fan favorites. Even the simple and laid-back production on songs like "Sweet Nothing" serve a purpose on the album. Also, lest we forget, the famous "Bejeweled" dance that has already begun to take over Tik Tok, starting with the fandom and now the platform's influencers. 
Over time, critics have started to open up to her music more and look beyond its popularity. In the past, they have been very hard on her, likely due to the fact that she had a feud with one of the most critically acclaimed (but controversial) artists of all time, Kanye West. She is a female pop star. We all know those come with many stereotypes. When looking deeper into Taylor's music and past her radio-repeated singles, they found her just as worthy of critical acclaim as any other artist. It is a proven fact that some music-reviewing websites were bribed and encouraged to give her a lower score, specifically during the Reputation era. The magazines that had somewhat bought into that have said now, five years later, that they regret their decision with following through on some of those urges.
 It is very interesting how even with a person as unproblematic and non-confrontational as Taylor Swift, she still manages to produce a large number of enemies during her time of fame and success. People love pitting big names against other names. It's almost like your favorite sports teams playing one another, and even more intense when it's the Super Bowl and the top two are battling it out for victory. Legends battling legends is something that has been a part of popular culture since the Roman Era. Tales were told of gods battling other gods for dominance. 
Over the time of this article's culmination, Midnights has continued to stay stable on the charts and kept pulling in the general public. "Anti-Hero" has now spent its first six weeks at number one on the Billboard Hot 100. It is only the tenth song in music history to do so. The album has now spent five non-consecutive weeks at number one on the Billboard 200. Over time, any doubt by fans or critics has certainly been quelled.
This is Taylor in her peak era, which is scary to think about, given the immense success of past eras like Fearless, 1989, and Folklore. This album is bigger than they were. The fact she is at the best point in her career sixteen years in, since debuting in 2006, is unfathomable. She may soon be the most successful solo artist in music history, only behind the bands known as The Beatles and The Rolling Stones, both of which also may stand in danger of being surpassed in the near future quite swiftly. 
View Comments (3)
About the Contributor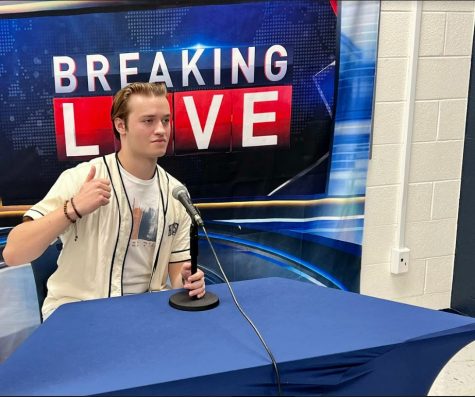 Matthew Beach, Staff Journalist
Hi, I'm a senior at Osbourn and this is my first year taking broadcast journalism. I plan to learn to perform better in this class to large amounts of...