Let's Play with Theatre
Theatre is an elective course offered here Osbourn where students learn ways to engage in performing whether as an actor or through technical aspects. For some students it is so much more than just a class. It is an environment free of judgment with a multitude of opportunities to just have some fun. The classes are led by Mr. Kite both the theatre teacher and director for school plays.
"My classes are rigorous and I set high expectations for my students, but there is a high emphasis on play. We have plenty of laughs as we explore theatre games, plays, theory, and technical aspects," said Mr. Kite.
His student also seem to view theatre in the same light.
The actors learn through warm ups, direct instruction, games, assignments, and performances. The warm ups prepare the students mind and body to act. After Mr. Kite goes through a lesson, they play games that are extremely fun, but also help build upon skills they learned through lessons. Just like any class, they have assignments that help them review what they learned and test their knowledge. Then, they put what they have retained into action and work on performances.
"Theatre involves us in ways other classes don't. It stimulates all the senses and keeps things interesting," said freshman Lynn Stoner.
In technical theatre, students do similar things but they are catered to their roles. Their bell ringers similar to warmups but have them create a drawing of scene based on a prompt. For example, they may have to draw a field with a dinosaur crying into a puddle, a chicken skydiving, and include a combination of two animals.
"Bell ringers have them design a scene to stimulate creativity but also to hone their close reading and critical thinking skills by working within specific requirements," said Mr. Kite.
Then they move into lecture on the topic such as lighting, sound, or stage crew which last about ten to fifteen minutes. Mr. Kite tries to add videos that diversify learning styles. Lastly they learn how to practically apply what they learned similar to the actors with performing.
Theatre is a class that develops skills farther than just those along the topic. It helps students gain confidence and security in their personality.
"I would say that it's a safe space for students to express themselves while considering the many facets of theatre and life and their place in it," said Mr. Kite.
"Theatre is one of my best outlets to show off talents and feel comfortable being me. I think that it is a safe haven for LGBTQ+ students and people who just don't necessarily fit into society's norm of what a teenager should be," added senior Matthew Beach.
It also builds their empathy towards others through plays, musicals, and community. The plays and musicals they read often have a strong message with characters who experience unimaginably hard situations. Some of them hit close to home for students.
" I think we have more respect for others and their struggles due to the diverse views we are exposed to through theatre," said freshman Kai Johnson. "I really enjoy how cohesive our energy is," he added.
Many students agree that their favorite part of theatre is the people that it attracts. Due to the need to express vulnerability, theatre thrives off of a trusting environment filled with people that care about the art and their peers.
In addition, it creates opportunities to not just learn about theatre but also actively participate in and out of classes. This year there has already been a play and casting for a one act competition piece called A Game.
"Almost, Maine was a huge accomplishment because the actual production was entirely student run— including students on sound board, light board, stage crew, and stage management. I was able to turn the show over completely to the students, which isn't always the case with many high school programs, and it makes me super proud of my students. Many design aspects including sound design and costume design were designed by students too with guidance from me," said Mr. Kite.
"It was also a huge success because the students formed strong bonds that will hopefully carry them through the rest of the year where they can rely on each other for friendship and grace as they navigate high school— for some of them, the last year they will do so," he added.
Then through the advanced theatre classes, there will be a one act called Removing the Glove, all the theatre classes will participate in the creation of ten-minute plays, and the spring musical The 25th Annual Putnam County Spelling Bee will hold auditions for all students starting in early January.
There is a lot to be enjoyed and learned from theatre. Though it can seem overwhelming, like many other electives if you work hard at it you can have fun with it and even its difficulties. 
"Don't be afraid to go for it; theatre can really get you out of your comfort zone," said senior Nevaeh Baker.
View Comments (1)
About the Writer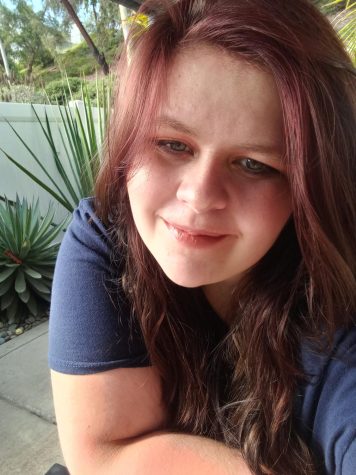 Jillian Sorrell, Staff Journalist
My name is Jillian and I am a senior. I hope to give voices to people who feel like nobody listens. I want to use the power of my words to bring awareness...