Certified Nursing Assistant Class Launches Successfully At OHS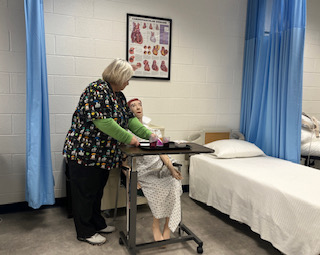 Osbourn High School has a variety of career and technical education classes also known as CTE classes. One of those many classes is the Certified Nursing Assistant class taught by Ms. Kinnard. This class is avaliable for seniors who have strong attendance and are passing their classes. At the end of the course, students who have fully passed the class are awarded with a certificate in nursing and are able to get a job in the health care field after graduating. Students who take this class are taught how to treat patients who are sick and how to keep patients with certain conditions stable. Students are also able to practice skills on each other. The class is also extremely focused on hands-on practice.
Students who take this class should be passionate and have a desire to work in the medical field. The state board of nursing requires students to have a total of 40 hours taking care of their patients.
"This class is mostly about teaching students how to take care of people and why they need specific attention when they have certain diseases. Students spend a lot of time in the skills lab practicing hands-on. I was a nurse for 30 years and eventually decided it was time to give back which is why I decided to come over here and teach this certain subject and class! You also must have really good attendance to be enrolled in this class. Students are required to have a specific number of hours in taking care of patients, knowledge in theory skills, and lab. Students get to go to a clinic experience of work base, where they get to experience further diseases and work on patients. The state board of nursing certifies you at the end of the class, after students have reached their 40 hours of taking care of the patients during their internship," said Ms. Kinnard who is in charge of the Certified Nurse Aid (CNA) class.
"I definitely feel like in this class you're able to do a lot of hands-on stuff which we all enjoy. It allows you to be more interactive and excited in wanting to do something. We always practice skills and sometimes pretend to be patients. We get to put each other in wheelchairs, and a lot of more stuff. We also had stretchers, which we walked with around the whole school, which was really fun," said senior Vanessa Nolasco – Infante.
Students who choose to take this class need to put a lot of effort and responsibility. This class isn't just about knowing basic facts about medicine. A major demand is that students should be able to contain their social interaction and excel at communication.
"I like taking our classmates' blood pressure, I think it's really fun. One of my biggest strengths is when it comes to talking to patients, I feel extremely confident. I also really enjoy working in the skills lab with the dummies. The skills lab made me feel a lot more confident in the medical field. I've been interested in medicine since I was in 8th grade, I had a friend who's a doctor and he lead me toward the medical field!" stated Ashley Leiva.
"I think the health care field is always changing and I always keep up with doing my own research out of class. I hope to be a registered nurse in the future so taking this class really helps with advancing it in the near future. I would recommend this class to those who have a passion to try and help people. I would say I'm really strong in caring a lot about others. I try to be as friendly as possible. But overall, I really do recommend this class for ones who have good attendance, good grades, and an interest in the medical field," said 12th grader, Maria Montes.
Students who are consistent and eager to learn more about medicine should consider taking this class. It awards you with more skills you can go out and use in the next upcoming years.
"This class really does prepare you to go out and get a job in the health care field after you graduate. It gives you background knowledge. When joining the class you do not have to have many skills because we teach everything you need to know in this class. Taking anatomy and physiology could help you prepare as well. This class is available to every senior who is passing all their classes and is interested in pursuing the medical field. We provide you with life skills that'll be important throughout your life," said Ms. Kinnard.
Overall, this class is great for ones who want to continue in the health care field, as it teaches you many outside life abilities you'll eventually use. Being passionate and responsible will help you improve in this class.
View Comments (2)
About the Contributor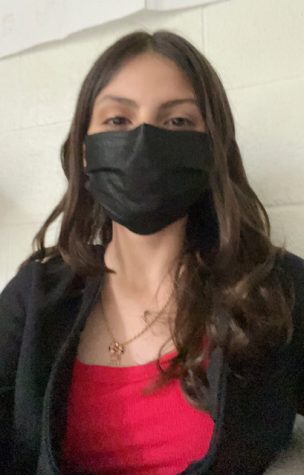 Celine Sakatan, Staff Journalist
Hi! My name is Celine Sakatan. I'm a freshman. I'm interested in writing about people's personal opinions and trending topics.