Seniors: Looking Back and Looking Forward
High school is a time for friendship, memory-making, and most importantly, growth. With all that can happen over the course of four years, the person who goes into high school is not the person who comes out, for better or for worse. Unfortunately, many freshmen don't know what to expect from high school, let alone how to make the most of it. People will say that the best way to learn is by heeding the advice of the more experienced, which couldn't be more true.
In thinking about their humble beginnings at Osbourn, seniors enjoy sharing who they were as ninth graders at the beginning of their high school journeys.
"I was somewhat ignorant. I was a little depressed, you know? I was a kid, I wasn't thinking," said senior Omarion Wanzer.
"I was very shy. I didn't talk to that many people, so it was harder for me to make friends," said senior Raphaella Giordano.
Three years later, these are the people they've become.
"Now, I'm funny and reliable. I'm a good problem solver," said Wanzer, "I'm more self-reliant. A little more carefree and confident."
"My friends now would say I'm hardworking and very smart," said Giordano. "I pay attention to detail a lot, and I don't get distracted. I'm more outgoing this year. I'm trying not to be as nervous. If anything happens, I just move on; it is what it is," she added.
"They'd say I'm now very loving. Caring," explained senior CeeCee Hopkins-Scott.
As seniors evolved throughout their years at Osbourn, their hopes and dreams for the future came into focus.
"I want to go to the Conservation, Land Management, and Wildlife College. Since I was young, I've always felt a gravitational pull towards animals," said Wanzer.
"I plan to go to college at either VCU or Mississippi State. I want to study journalism," said Hopkins-Scott, "and in ten years, I want to be a mom. My goal is to be a better person, in and out. I'd also probably like to have my own business. I would do hair and tattoos. I've been drawing tattoos with my dad for almost a year now and doing hair since I was eight."
Most seniors, while they once had their worries too, wish they hadn't let them get in the way of living their lives.
"[My biggest regret is] not starting to play sports when I was younger. If I had, I would be better by now," explained Wanzer.
"[I regret] not taking as many opportunities as I could've; not getting as involved with school spirit," Giordano added.
If you were given the chance to talk to their freshman selves, what would they say? 
"Put some deodorant on," said Hopkins-Scott after careful thought.
"Don't take the years for granted because when you're older, you'll want to be back in freshman year. Also, don't be afraid to ask for help," said Wanzer.
"Don't worry about things. Just enjoy the ride," suggested Giordano.
View Comments (4)
About the Contributor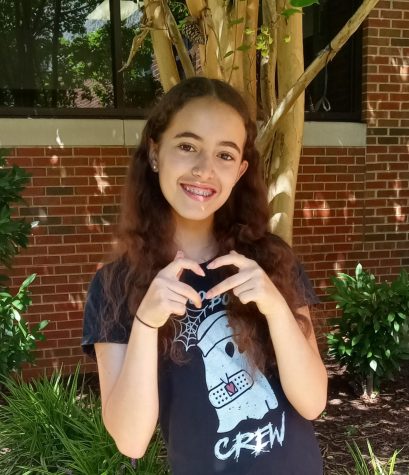 Victoria Ingram, Staff Journalist
Hi, I'm Victoria. I'm a freshman at Osbourn. I write about student opinions and student life. I'm also a big book lover, so you can count on some articles...