How Sweet It Is: Halloween Candy Season Is Here!
As the Halloween season kicks in with the bang of new horror movies, new costume ideas, and the incredibly irregular weather, the one thing that never changes is the candy. The various choices, sizes, designs, tastes, and above all; it is free for just one night. Is almost every kid's dream. Besides one OHS senior, Madison Maxey. "I don't care about trick or treating at all since I don't like Halloween at all. It's kind of a waste of time."
But besides that, some of the members of our staff celebrate by giving out candies themselves. "I do give out candy throughout the night, with a whole bonfire going on with the neighborhood as we all give out candy. We always get those big bags of candy that have a whole variety," said Mr. Ellenberger, the school's athletic director.
"I don't give out candy because kids can't come over around my street," Mr. Whitley said with a serious glance back. "Oh it's only because it isn't safe enough for them to come around and collect their candy, it's not like I don't want to give out candy at all," he continued with a light chuckle, hoping to redeem himself (he did.).
Some of our staff don't give out candy at all, "I choose salty snacks like pretzels over candies since there's always a chance that we have some leftover, so I guess you could call me selfish." Said Ms. Miller with her big smile, "It's a win-win for everyone, they get something not sweet for a change while I get the leftovers and get to enjoy them instead of just leaving them around since I don't have such a sweet tooth."
"Everyone likes candy bars especially during this time of year, especially since those rich houses always give out king-sized bars," Mr. Whitley said with a big sigh. "My kids loved those over the regular-sized ones, but not me though, they're too expensive."
Students have had their share of what candy they enjoy getting, even more during this time.
"I just think that during this time, getting as much candy as you can get in under the time that you have, is intense," said an anonymous sophomore, "I think my favorite candy to get has to be either Skittles or Swedish Fish," she said as she laughed with her group of friends.
"Although I don't go, I love getting Reese's cups from my friends who do go. I just really like chocolate, especially that type. Other than that, I enjoy getting Skittles when I'm feeling like something bit fruity," said Nazaret Garcia, a junior.
"It has to be either Reese's or Almond Joys. I personally like them because 'cause they're good and I love coconut. I do hope I get some this year," said Brian Ceron, who is also a junior.
"Reese's because I like the peanut butter taste and the caramel M&Ms since they're colorful and taste completely different from the other ones. They're less sweet to me, I guess that's why no one likes them," said Madison Maxey with an embarrassed laugh. "I mean, no one talks about them at all! Like are they THAT distasteful?"
"I only really like Twix because they don't have peanuts and they have a good taste, especially the left ones," said Jason Peña, a junior, with an embarrassed chuckle. "I only really enjoy those and gum. Since I'm allergic to peanuts, I can't enjoy candies as much as I would if I had a sweet tooth; which I don't," he said with a light laugh.
"I like the 100-Grand chocolate bar and Take 5. It seems like no one knows what Takes 5 bars are anymore… am I that old? Did they discontinue it or something?" Mr. Ellenberger asks in a concerned tone.
They did in fact, discontinued the Take 5 chocolate bar. In Canada.
"The 3 Musketeers have to be my personal favorite compared to all of the good candy bars. Like come on, it's one of the best chocolate bars out there! It's simple and sweet, what more is there for me to ask for?" said Mr. Whitley.
"Oh, I love getting Hubba Bubba. In all their sizes, either it's the original wrapping, the packs, or even the flavored ones. Each one is so good and they last a good long time. I wish I could find some house that would give the gum tape just like that," said an anonymous sophomore with a small laugh as she answered.
Many students plan on trick or treating, just like Brian Ceron, "I haven't gone out to get anything in the last two years so hopefully I get something worthwhile."
Others have even more interesting things to do on Halloween night.
"I'll be spending Halloween not trick or treating or giving kids candy; I'm going to spend Halloween night by myself, with candy and horror movies playing all night," said Jillian Sorrell who is a senior with a big smile.
"I don't trick or treat since I don't have the time to, but I hear that it's profitable for free candy. Plus, I think I work on Halloween night," said Nazaret Garcia with a quick laugh.
Although Halloween isn't celebrated by a ton of people, Halloween is almost always spoken of. Either it's the parties, the insane costumes, or even the sleepovers, but nothing will ever top the amount of candy you can get in a couple of hours. Everyone who trick or treated throughout the night always spends their night either sorting out their candies, trading, throwing some out for safety precautions, or just feasting on it all like there's no tomorrow.
It always feels good to see how much, as a kid, you were able to get from various people that you would most likely never see again. Candy is comfort for a lot of people, and sometimes comfort feels a lot better when you know that you didn't spend about 10 dollars on a whole pound of candy!
View Comments (24)
About the Contributor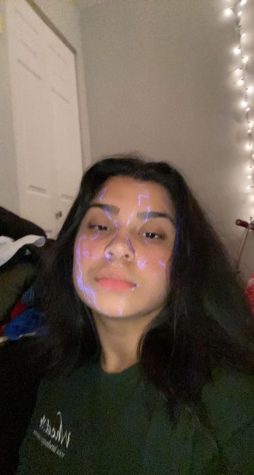 Mackenzie Ferman, Staff Journalist
Hey,  I am a junior this year at Osbourn and I plan on becoming a better writer by writing articles on really anything besides sports since that's not...