K-pop Club Celebrates Global Music Obsession
K-pop, or Korean pop music, is one of the newest global obsessions. The first K-pop group, Seo Taiji and Boys, debuted in 1992 with the song "I Know." The song incorporated western sounds like hip-hop and R&B. Even though K-pop has existed for decades, with the first group debut happening close to 30 years ago, a recent spike in popularity has thrown the genre into a bigger spotlight.
"I have always been a fan of K-pop. My sister was the person who showed and inspired me to get into K-pop. The first group that I listened to was Girls Generation. I instantly fell in love with their music," said senior Ashely Lucero.
There are many different genres, or concepts, in K-pop; such as 'Girl Crush' or 'Cyberpunk Sci-Fi'. Along with these concepts come many different types of music, with more popular types including pop or rap.
"I like a lot of different types of genres and don't really know if I could pick a favorite. I really enjoy songs with more pop and drama. My favorite bands are BTS, Apink, and BLACKPINK," said freshman Kai Johnson.
With the creation of the K-pop club, students like Ashely and Kai are able to share their love of K-pop with others. Every Wednesday, the club members dance, join festivals, and discuss all things K=pop. Like many other clubs, students talk about their favorite groups or their history with K-pop during meetings.
"I like K-pop because it helped me through rough times. Groups like BTS, Twice, and Red Velvet made me happy. I enjoyed discovering their discography and learning about their passion and love for music. They helped me learn how to love and accept myself. They are the reason I'm so strong today. I wish I could repay them for what they've done for me and millions of others out there," explained Ashley.
Along with talking about their favorite groups and songs, students in K-pop club learn dances and rehearse them. K-pop has a huge dancing scene, with almost every song having a dance or performance video accompanying it. Many people were introduced into K-pop through dance.
"What got me into dancing was 'Just Dance.' As soon as the first one came out I was all over it. I really loved dancing so I continued and found K-pop. At first I was just doing random dances, but in 2014 and 2015 I found a group called 'BTS' and I've been into K-pop ever since,"  said sophomore Soller Ellis.
BTS, also known as Bangtan Boys, is an international Korean boy band. They debuted in 2013 with the song "No More Dream." The 7 members started to gain popularity in 2015 with the release of "I Need U." They are now the most popular K-pop boy band in the world, with Forbes reporting that they are the most streamed group of all time on Spotify.
"The reason I like BTS is because they have amazing songs. They actually put work into these songs. Not to mention they are really beautiful. Their personality as individuals and then as a group makes them 10000% more appealing. They make people want to listen to their music and they do so much for people around the world. They've made an impact on so many people. They have touched the hearts of so many," said Soller.
Along with their visuals and sounds, BTS is widely loved because of their impact on the people who listen to them. Many stans will say that BTS inspired them and taught many people how to accept and love themselves.
"I love BTS because they showed me to be okay with expressing myself. I found how to love myself more than before. They saved me and millions of other people. They deserve the fame they have now because of how far they've come and what they've had to go through to get to this point. They are my aspiration and my heroes," Soller added.
Whether it's because of a shared love for a group or a song, K-pop brings people together from everywhere around the world. It gathers people together, from family members to classmates, to chat about their favorite groups or soloists. K-pop is not always about dancing and happy music, but making friends and making each other happy as well.
View Comments (4)
About the Contributor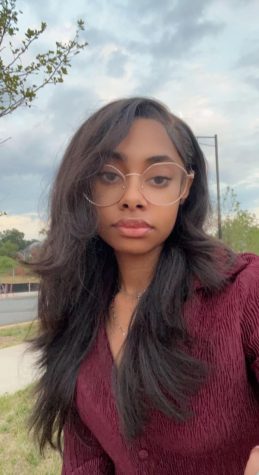 Soller Ellis, Staff Journalist
I would really like to be the morning news anchor because I think it will be fun!