Book Talk: Osbourn Readers Favor Romance and Manga
Many people don't read because they find it "nerdy," but reading has recently become a trend. Many people find recommendations trending on social media platforms such as TikTok, Instagram, and YouTube. Many readers currently look on Tiktok for their book recommendations, people call it "BookTok." An author that blew up recently due to the "BookTok" trend is Collen Hoover; people love her books because of the plot twists and suspense. Her books usually fall into the romance category and often discuss a lot of heavy topics.
Another book genre that has become popular is manga, and it has recently become very trending. An author that has recently become popular is Eiichiro Odathat. Eiichiro Oda is a Japanese manga artist and the very man who created the very famous One Piece, not only is it the best-selling manga in history and the best-selling printed comic series, but the manga series has sold over 516.5 million copies and is trending in over 61 countries. Many people look for their manga recommendations online and in person, as there are entire bookstores dedicated to manga.
A very well-known genre is romance. Many enjoy reading all of the different kinds of romance book tropes, such as friends to lovers, enemies to lovers, forbidden love, and second chance. Some of the many books that have been going viral due to the "BookTok" trend are It Ends With Us by Collen Hoover, Ugly Love by Collen Hoover, Spanish Love Deception by Elena Armas, and The Love Hypothesis by Ali Hazelwood. One author that has particularly been going viral and has become well known throughout this whole trend is, Collen Hoover, she is well known for her plot twists and heavy topics that are mostly meant for people ages 16 and above. In 2015 Collen Hoover's book Confess won Goodreads Choice Award for best romance book.
Sophomore Laura Diaz said "A book I read this past month was It Ends With Us, the book was by far the best book I have ever read. It was a really emotional and cute book. It had a lot of plot twists, and it was very shocking. The book talked about many topics like trauma, romance, and heartbreak, I loved it a lot though because of its plot, it doesn't ever really get boring, and the more I read the better it got."
Sophomore Al0ndra Marquez said "My favorite book is the Un Honeymooners, and I like this book because its an enemy to lovers and it holds a few plot twists and its kind of a slow burn but it still has a lot going on; overall it's a really good book and I would recommend it to a lot of people. The book talks about a newly married couple's brother and sister who are so-called enemies.  Something unexpected happens, and the book left me very shocked, but I still loved it a lot."
Freshman Celine Sakatan said "I started reading when the pandemic started and it has influenced my life in many ways. For starters, I would be on my phone 24/7, but now that I've found a book that interests me, I feel that I enjoy reading a lot more. I love how there are so many different book choices in the romance genre, and I love exploring different topics that I feel would interest me more. Books have made it easier for me to make friends in some cases because I found that a lot of people enjoy reading the same books as me and share the same interests. Reading has honestly become a big part of my life recently. I found that if I just want to get away from everyone and just relax I can just pick up a book and I feel just safe in a way."
Recently a lot of people have started reading manga as well. Many of the newer readers also watch anime. Anime watchers frequently believe that the manga version is better because of how much more detail it covers and how much more descriptive it is. While some have a specific manga artist that they prefer, others focus more on plot.
Senior Michael Juarez-Sesam definitely focuses on both art and plot. "My favorite author and artist is Boichi because his art style is very unique and he emphasizes human anatomy. It is not as cartoony, and he takes great strides in drawing the human body. He goes into depth with his characters and it's very intriguing. He gets different angles and lighting as well when making his characters and it's super cool seeing a drawing like that. When reading most manga the characters always just have some regular muscles or their figure is very overblown. However, with Boichi it is completely different in that the characters are drawn to such depth and shaded in and have a body just like a regular human. It should be clear that saying 'wow they look just like a human in a manga based on people' is kind of dumb, but you have to realize that most manga have human characters, but they are in unrealistic situations. So having a character do normal things with normal attributes is just super cool to see," he explained
Freshman Ann Mohamed said "One Piece is the best manga ever. It absolutely never gets boring, and at the end of every volume, there is always a cliffhanger. Once you start a new chapter, I promise you will always want to read more. My personal experience through the whole series was the best, it literally never got boring."
View Comments (7)
About the Contributor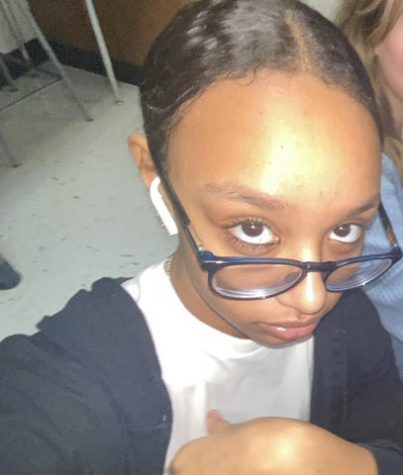 Ayaa Mohamed, Staff Journalist
My name is Ayaa Mohamed. I'm a freshman and I would like to write about anything.