Rolling Right Into the Cozy Fall Fashion Trends
As the fall rolls into Osbourn, you'll notice the students coming in looking way cozier. The weather is rapidly changing, which means that long sleeves, hoodies, sweatpants, flannels and sweaters are everywhere. While you might not see students in outfits that you would consider fall fashion, many students' style for being cozy during the autumn months is visibly different. A hoodie and sweatpants is what most students reach for to stay cozy. But when walking around the school, you may see some additional trends.
Some bring out a whole different wardrobe when fall kicks in. New clothes and new colors are key. No more bright pastels or vibrant colors fill the hallways. It's time for neutral colors!
"I try to use more browns and neutral colors, I love a good mushroom look for fall. If summer is for colorfulness, the fall for me is more mature," said freshman Aziza Zarrincalaki. Students like to mix it up and wear more comfortable clothing to feel warm and cozy.
"Some changes in my style include adding baggy clothes because they are really comfortable and keep me warmer than regular-sized, more fitted clothes," Daniel Lama said.
There are so many things that bring out the excitement of the cold weather. The different cozy outfits and the fun outdoor activities this season bring out the best in fall fashion. Some like going camping or making s'mores, while others really make the fall their very own fashion show!
It's not disagreeable that most high schoolers just like to wear jackets, hoodies, and sweatpants. But some bring their looks to another level.
"My [favorite fashion piece is] my 25-piece snowmobile suit. I feel like Frozone," said sophomore Savanah Chajka.
Students like to make fashion statements and shop for styles that really bring out their personalities. Finding unique and affordable fashion can sometimes be challenging, so checking out a thrift store could solve any budget problems one might run into.
"I usually get most of my fall clothes from Goodwill or other thrift shops I find along the way. It's cheaper and I feel I can build a better wardrobe with all of the different original styles," said Aziza Zarrincalaki.
Senior Michael Juarez-Sesam gave a good take on where one can get affordable fall fashion. "[I] mainly [shop at] Tillys or JCPenny. I go to places that are not that expensive, really [because] I enjoy just looking for deals on nice clothing. I only go to them mainly because of my budget, so that way it's easier to look good while having your bank account look good [too]."
Fall activities really bring out some specific styles. For example, going to a bonfire, camping, watching movies with friends and family, and even going to the pumpkin patch all require different types of outfits. Students get really excited about finding the right look for many different events.
"I get excited for the holidays and hanging out with my friends and family because I like spending time with them and it just feels more memorable during fall," Nina Picardo said.
"When I'm outside for fall events like corn mazes, and haunted houses I don't wanna be cold, so I wear warmer stuff that covers me more," added Picardo.
"Yes! I get excited about coffee, hot coffee. And the pumpkin spice when it's like a trend everywhere," said sophomore Jocelyn Cruz.
Having something to wear that matches what you're doing is very important. It makes one sure to get into the spirit of things.
"What I do impacts what I wear because when I dress up warmer and cozier, I feel like it makes my coffee taste better and it's more nostalgic," said Jocelyn.
It's not just the weather that makes fall what fall is at our school. Being comfortable and cozy means a lot to most of our students. So making sure they're both stylish and comfy, is all that matters this season.
Happy Fall!
View Comments (11)
About the Contributor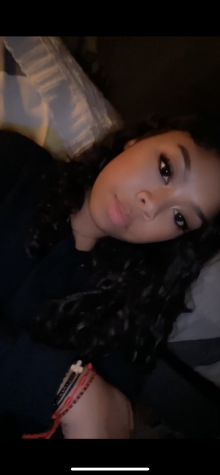 Mikaya Trammell, Staff Journalist
I'm Mikaya! I am a sophomore. This year I hope to write about how the students feel about what goes on around the school.