Almost, Maine is Almost Here
In just a few weeks, Osbourn's theatre department will be presenting the play Almost Maine by John Cariani. Almost Maine is a romantic-comedy set in Maine right before the Aurora Borealis. Each scene shows love taking physical form in some way, and shows the different hardships of romantic relationships. In order to have the play run smoothly and feel authentic, everyone involved is working really hard. Between rehearsals and one-on-one work, it can be a lot to handle, but the cast and crew continue to do amazing things.
To start rehearsal Mr. Kite, the director, has the actors begin warm-ups. These exercises review the nine viewpoints for acting: tempo, duration, repetition, topography, architecture, shape, gesture, spatial relationship, and kinesthetic response. Actors must have these basic foundations of theatre before truly acting. Knowing these viewpoints helps them and the director have a shared sense of vocabulary, with which they can adjust scenes. The viewpoints also help actors get out of their heads and connect with each other.
Sound ball is one of these exercises. In this game, each actor makes up an imaginary object and passes it around. The objective is to use sounds and gestures to show what their object is. It really incorporates all of the nine viewpoints, versus some of the other activities that focus on a specific viewpoint. Similar to a sports team it is very important for actors to warm up.
"I really enjoy sound ball because of the creativity involved and the different objects people come up with. It really showcases improv skills and spontaneity," said Natalie Shelton.
Once they are finished with that, actors begin working on scenes together. Each scene is ten minutes long and there are about eight of them. Rehearsals usually go from 3:30 to 5:30 but there are also other days when only those in a specific scene will come. Although those sessions don't typically last as long, there is still a great deal of work accomplished
Not all of it can be done in rehearsals, though. It is essential that actors make progress on their own when it comes to characterization and memorization. This often includes repetitive reading of the script and time spent self-reflecting. If the actors are too focused on reading lines during a scene, then they are not really in character. Many spend hours reading and re-reading lines.
"I read my part for about an hour before bedtime and whenever I have free time," said Quiana Michel.
Others spend long periods of time working on their characterization, the creation or construction of a fictional character. In order for an actor to portray a role that feels realistic to an audience, they must take the time to connect themselves to that character.
"I try to connect the scene to my own life so I can draw from my own experiences," said Natalie.
"I throw myself back into the time and setting the character is in. I also do some of the same things they might have done," added Matthew Beach.
Actors are not the only ones with work to do. The director not only has to help the actors but also organizes other aspects of the play.
"There is always pressure as a director to produce good work, but also create a safe space for actors to fail," said Mr. Kite.
In order to present a good show, Kite prepares similarly to the actors. Although he doesn't need to be able to say the lines on stage like the actors do, having familiarity with the script is an important starting place for everyone, including directors. He reads the script continuously and explained that by doing this, he gets a feel for the musicality of the script and how to help the actors achieve the vision for the show.
Stage manager, Victoria Hanback, also has a great deal of work to do in order for rehearsals to go well. She takes notes on each item, such as blocking, the director's comments, and more.  Along with that, she shares important information with the cast and other members working on the play. She also brings snacks, helps actors recall their lines, and just helps anywhere she can.
"I tend to the things of necessity behind the scenes," Victoria said.
In addition, there are members working on makeup, costumes, set design, and so much more. Even the things that might look simple to those watching the performance take a great deal of thought and preparation.
Overall, preparing for a show takes so much dedication for all of those involved. It is fun but can be stressful too. What ends up being a two-hour show for the audience to enjoy actually takes months of hard work on behalf of the cast and crew.  So, if you have time, go show your appreciation by attending a performance of Almost, Maine from November 4th through 6th.
Be on the lookout for posters with more information on the upcoming performances.
View Comments (10)
About the Contributor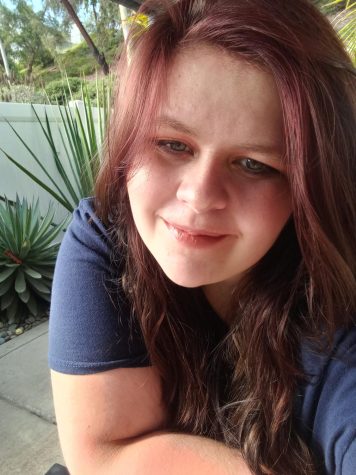 Jillian Sorrell, Staff Journalist
My name is Jillian and I am a senior. I hope to give voices to people who feel like nobody listens. I want to use the power of my words to bring awareness...