Students Embrace Huge Variety of Musical Genres
For a lot of OHS students, music plays a large role in their day-to-day lives. From using it to focus on schoolwork, to playing it to get you pumped up for a big game, students definitely make music a part of everything .
Each of those life moments tend to require certain genres of music, and it's just as important to considering exploring those genres to grow your own unique musical preferences.
"Indie pop and/or rock are my preferences," said freshmen Amber Harris. Her favorite artist is The Neighborhood. And her favorite songs at the moment are Advice by Alex G, and Little Dark Age by MGMC.
As for freshmen Susannah Bailey's music taste, she likes many different genres. "I listen to literally everything, but mostly death metal," she said. Death metal is a variety of metal characterized by generally having darker themes and heavier instrumentals compared to other metal sub-genres. Her favorite artist is Ice Nine Kills. And Bailey's favorite song is Isabella's Lullaby from The Promised Neverland. Susannah recommends the song Undead Ahead 2: Tale of the Midnight Ride by Motionless In White.
Freshman Tiffani Garcia says her musical taste is "Probably indie or alternative rock, and Hispanic music." Alternative rock is characterized by its deviation from mainstream rock, and expressive music.  Her Favorite artists are Mitski and Steve Lacy. "Their music helps me go through a lot, and I really like their style," she said. Garcia's favorite song is Daddy Issues Remix by The Neighborhood. "I really relate to it, and I like the beat," she explained. Tiffani recommends the artists Gemini Rights, Chase Atlantic, The Neighborhood, and Artic Monkeys.
Freshman Anne Marie Zacholl described her favorite musical style as Vocaloid, a genre defined by the robotic premade selection of sounds that can be stitched together to make your own lyrics and music. Vane Lily is her favorite artist, "The strong drums make a heavy rhythm throughout their music," she explained. Her favorite song by Vane Lily is My Eternity. "It's their newest song, so it's stuck in my head," she stated. Anne Marie also recommends the song Spot in the Forest by Elliotly.
Seeing other people's music choices can also help broaden what you listen to as well. Even if a genre isn't to your tastes, you can gain an awareness of other perspectives.
View Comments (3)
About the Contributor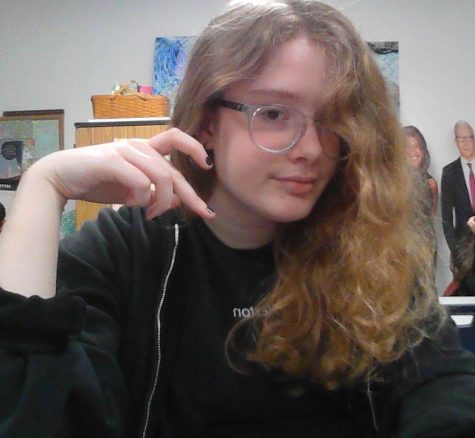 Lynn Stoner, Staff Journalist
Hello!  I'm Lynn; I'm a freshman here. I'm very ambitious, outgoing, and my friends think I'm quite the comedian. I love drawing and art, psychology,...