New Football Coaches Make Positive Impact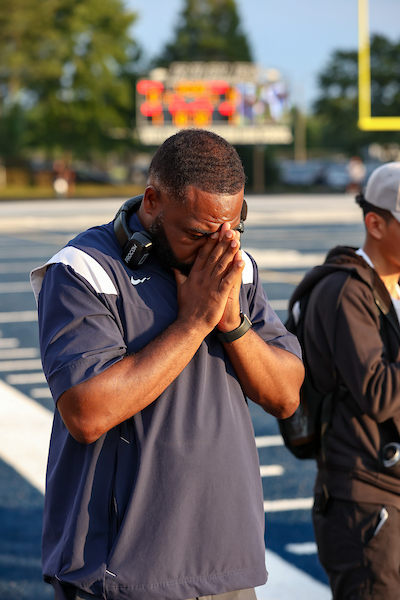 Football season is back for the Osbourn Eagles. After finally being able to have a normal off-season (the first in 2 years), the Eagles have some new unfamiliar faces on the coaching staff. The new coaches joining Osbourn for the 2022 season are Coach Hoffman, Coach Wallace, and Coach Jed.
All of the new coaches bring a lot to the game, and are able to teach from prior coaching and playing experience. Coach Hoffman and Coach Jed came in to help the offensive line, pushing them to get better at their techniques, while Coach Wallace came to help out the defense.
The players are excited about the new coaches that have been brought into the program and they have been heavily impacted by their coaching. "I feel like the new coaches bring a whole new dynamic to the game. The coach that has impacted me the most has been Coach Hoffman. I really feel like he brings a lot of new drills in and he encourages us to be better," David Harris said.
As the new coaches settle in, players express how they have been impacted by the new hires. "I think Coach Hoffman has impacted me the most, he explains everything thoroughly and step-by-step, and it helps us get better at what we do," Emerson Rodriguez said.
"With the new coaches coming I feel great, and the coach that has had the greatest impact on me so far is Coach Hoffman; I like his coaching style," Brian Salgado said.
Although the new coaches have greatly impacted the team mentally and physically, players also value their returning coaches, who have trusted and believed in them. "I feel like it's a great decision by Coach Whiting and the school to let them join just because we get to experience new coaching and new techniques. I feel like Coach Modlin also has a big impact on me, just because he believes in me and gives me a chance to get better. He is always willing to point me out on my mistakes so I can improve," David Turcios said.
As the season continues the Eagles will have these coaches alongside them to help mentor them and help them get better every single day as they reach their goal of getting into the playoffs once again.
View Comments (7)