Field Hockey Athletes Strengthen Skills, Stay Upbeat and United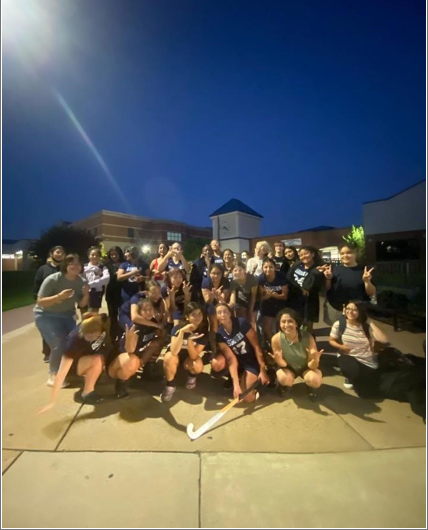 The very young Osbourn field hockey team is steadily continuing to improve their skills; on and off the field. Being in a competitive district, they look to upset a few teams this season. With the fall sports season underway, the Osbourn field hockey team looks to succeed and grow as a team altogether.
Before every game, the field hockey team has a few pregame superstitions. "Our pregame usually consists of chatting with each other, and sometimes we listen to music on the bus. At every game, we get matching ribbons to put in our hair when we play," junior Desi Brock said. Brock, in her second year playing field hockey, thoroughly enjoys being a part of the team. "I really enjoy each and every person on the team, and they are all like a big community to me," Brock said.
As the team keeps improving on the field, they also improve as a big family all together. "I feel like our team has grown very close in just a short span of time, and is able to work together like a true team," junior Kaya Graham said.
"I think that one of the best things about Osbourn's field hockey team is the atmosphere. No matter what happens, we always have each other's backs. I think that's what makes us a really promising team. We have a lot of new players with a lot of heart," junior Nina Nicoletti said.
Nina Nicoletti has played field hockey since her freshman year. "Watching the team grow from my freshman year until now has been a true experience. It really makes the hard work feel like it's all worth it as a team," Nicoletti said. Nina will be serving as one of the team's two captains this year.
"I like being able to better myself on my skills and athleticism as a whole, especially with our program changing for the better. It brings out a whole new competitive side out of everyone," senior MJ Holsclaw said. Holsclaw, who has also played since her freshman year, looks to be one of the leaders of the team, as she is co-captain with Nicoletti. "Being a captain, I have to lead and teach my younger teammates and put them on the right path for the future of this field hockey program," Holsclaw said.
The future of the Osbourn field hockey team is looking bright. "My expectations for the future of this team is that we stay united and as upbeat as possible, and understand that it is okay to make mistakes," freshman Alice Hertz said.
Players spend hours after school playing games and honing their skills. The girls on the field hockey team put so much effort into their sport, but they put even more effort into their relationships with each other. This season isn't just about their playing on the field; it's about their bond off of it as well.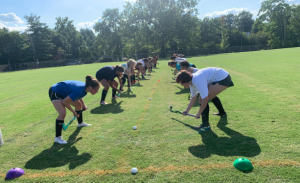 "I enjoy getting to become closer friends with the girls on my team and being able to know them and how they act, which helps us on the field," says freshman Alice Hertz. 
The relationships between the players are one of the most important focuses of the team. Knowing your teammates helps you communicate with them when it comes time for a game. Many of the players expressed how necessary communication between teammates is.
"It allows you to know what you're doing. If you don't communicate, if you don't talk to each other, then you are not gonna work well as a team," said junior Alexia Interiano.
"Yeah, it's a struggle if you don't communicate. You won't know who you're passing to," said sophomore Jessica O'Campo Linares.
Practices usually consist of working on those skills, as well as offense and defense. They work on the baseline skills and on expanding their abilities with those.
"We have a new coach, so we're definitely pulling the program into a different direction. The previous coach had a sort of different method, so our new coach is really getting us to more advanced skills and expanding how we play in general," said senior MJ Holsclaw.
Coaches Clark, Torres, Vaihinger, and Innamorato all work hard to get the girls to be the best players possible. Their current objective is to get more shots through goals.  They wholeheartedly believe in the talent and abilities of their players to achieve that. However, the coaches' goals don't end on the field.
"I want our girls to build a community where they keep each other accountable, they support each other even when it's tough, and they get rid of any of that negativity. Our community is based on unity and togetherness, and making sure that it's a safe place," said Coach Innamorato.
"We're gonna push you, we're gonna get on you, we're gonna build your field hockey skills. But I also want you to be a good human. I want you to show up to every school and have them say 'I like playing the Osbourn girls because they're poised, they're confident, and they play a good game. My goals are making sure the girls are working to become good humans off the field as well as good players," Innamorato continued.
As the young team continues to work hard and grow, they look to finish this fall season strong.
Our field hockey team's next home games are on the 20th, 22nd, 27th, and 29th of this month, September.
View Comments (6)
About the Contributors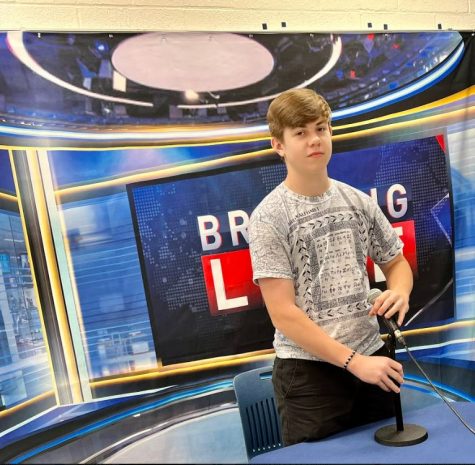 Aidan Kiefer, Staff Journalist
Hey, my name is Aidan Kiefer and I am a junior at Osbourn. I prefer to write about sports, although I can cover any topic.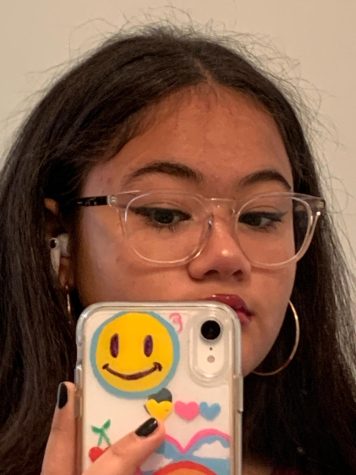 Aziza Zarrincalaki, Staff Journalist
My name is Aziza Zarrincalaki and I am in my freshman year. I enjoy makeup, scrapbooking, and playing the violin. This year I hope to cover topics about...