Hey Osbourn, What's On Your Current Playlist?
What is music? For some, it's an escape from reality, for others it's a source of happiness and joy, and for OHS students, it can almost be a source of spiritual healing. As more and more music is released each day, those who listen develop certain musical preferences regarding what music they enjoy and what music they tend to avoid.
Today's teenagers and young adults (Gen Z) spend nearly 4 hours a day listening to music. Large streaming platforms like Spotify, Apple and YouTube music have created an easy and quick way for teens to stream their favorite songs no matter where they are. With all of these easily accessible resources available to them, music has become part of the daily routine for many students at Osbourn. Music not only exposes students to new styles and perspectives, but it also makes them feel less alone during hard times (especially during the 2020 Covid-19 quarantine period, where many were separated from their friends and loved ones).
During the school day, a couple of seconds before the bell rings, "Cha Cha Slide" by DJ Casper plays over the speakers. The song quickly motivates students to get to class before the bell rings and the upbeat music gives many a lift of energy after a tiring class period, as this song evokes the emotion of positivity. Music moves teens emotionally, it gives students an outlet to express anything from happiness to anxiety, and this is why the music industry tends to be so diverse. Music choice and music taste is usually so varied depending on what the person is feeling, and what kind of life experiences they have had. This is why what someone is listening to can be very personal for them, and OHS students are definitely an example of that.
"The song I'm listening to is Video Games by Lana Del Ray," pop fan and junior Maryam Ahmadi said.
"I'm listening to Sky by Playboi Carti on Spotify," Edan Mark Tabug, a senior replied.
"Right now, I'm listening to TT by TWICE on Spotify," said freshman Akessa Jeevan Tabmo Avila.
"[I last listened to] WTH by Freddie Dredd on Spotify," said Erick S. Rivera-Lovos, a freshman.
"My last listened-to song is Habits by Mr. Kitten on Musi," said Ma Dorielyn Tabug.
"The last song I listened to was Killing me Softly, by The Fugees," said Eithne Richardson.
Because music tends to be such a personal decision, different people are just typically drawn to c0ntrasting music and genres for different reasons, and what they look for in their new favorite song can vary.
"What I look for in a song is emotion; if it's a good song, it shouldn't only have good melodies and lyrics, but it has to basically capture [an] emotion. In Video Games by Lana Del Ray, I feel that when she sings "for you, for you, it's all for you," Ahmadi said.
While what some may look for in a song might be something like emotion and a good chorus, for others it can be something as simple as just the tone or flow of a song.
"[If I like a song, it's probably because] I like the flow and beat of the song, and that's [probably it] for me unless it has too explicit lyrics, then I probably won't [listen to it]" Edan Tabug mentioned.
Many OHS music lovers also have different opinions on how much money they are willing to spend on good sound quality and expensive headphones, like Airpods, to listen to their favorite songs and genres.
"I don't think I would spend extra money on music equipment. My phone has a speaker, and that's really all I need, and I definitely don't hate any genre, I can listen to anything from '80s to Phonk, rap to classical," Rivera-Lovos mentioned.
While some students don't think sound quality really matters to them, others believe it to be crucial.
"I listen to music whenever I'm bored, so much so that my [main goal] is to buy a whole speaker set for my car in the future, [when I get my license]," Dorielyn Tabug said.
Because OHS students are as diverse as the music industry itself, so are the reasons they listen to music.
"Music to me means a lot of things, it mostly means having a way to basically feel your feelings because, with music, there's all different types of moods and vibes, and having something to relate to when you're in your feels really helps," freshman Richardson mentioned.
View Comments (27)
About the Contributor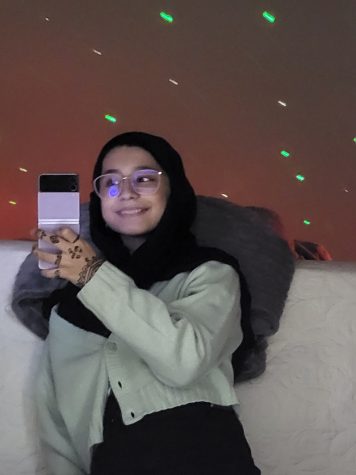 Madina Habib, Staff Journalist
Hi, I'm Madina Habib an OHS freshman (9th grade). I hope that in the future I hope to write articles on OHS students and their interests, and important...