Is SZA's Newest Album Deserving Of The Hype?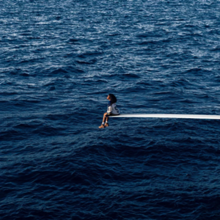 SZA, an American singer, has now released her second studio album, SOS. On December 9, 2022, it was made available via RCA Records and Top Dawg Entertainment. Don Toliver, Phoebe Bridgers, Travis Scott, and the late ODB all make cameos on the album.
Starting in the first months of 2010, she released two extended plays. She collaborated on the song Feeling Myself in 2014 with Nicki Minaj and Beyoncé. She was a featured performer on Rihanna's song Consideration in 2016. SZA quickly rose to the top of numerous charts.
SOS settled at #1 on the charts in over 50 countries, the new titleholder of the most streamed R&B album in a day. The most streamed song on said album is Kill Bill ranked as the top song listings, it also impressively registered as #5 on the Global Spotify chart.
I agree with the vast majority of listeners that Kill Bill is the best song on the album since it is so good. The tracks Shirt, Kill Bill, and Low are in my top 3 favorites on SOS. While choosing tracks to write about, I struggled, I would write articles on each song individually if I could because I enjoyed listening to the entire album.
It was amazing when I heard Kill Bill for the first time. Shirt' and I hate u both find SZA upset with a toxic ex-boyfriend. I believe I listened to the song a bit too much. I played it repeatedly for quite a while. The song Kill Bill follows SZA through her grief over losing an ex-lover to a new woman. The lyrics blew up on social media very quickly. I think these lyrics are quite interesting and emotional.
Shirt was the next song that I truly liked. Although it was still included on the most recent album, this song was released on October 28, 2022. I think that was a great move because the song fits extremely well with the other songs on the record. There were a few lyrics that truly caught my attention: "Just my mind, gotta get outta here, tough crowd, I hate it, can't stay." These lines intrigued me because of the amount of hate SZA truly gets for unchangeable reasons.
Lastly, Low was one of the first tracks on the album that I heard. "If you see me out in public you don't know me; keep it silent."  I actually appreciate the album as a whole, and it was amazing to hear each song separately before learning how they were all connected.
This album should be appreciated by listeners of r&b, soul, and indie rock in addition to SZA's fans. They won't ever grow tired of it. SZA poured so much heart and soul into this album that it's practically impossible to listen to the songs without playing them again and again.
View Comments (13)